World news story
Entrepreneurship is GREAT: Business plan competition aimed at Senegalese youth
The British Embassy and its partners organised a business plan competition aimed at nurturing entrepreneurship among Senegalese youth.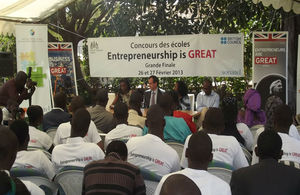 The British Embassy in Senegal in partnership with the British Council and SONATEL organised a business plan competition which was open to business school students and pupils from the British Council's Connecting Classrooms Programme. The aim of this competition was to nurture entrepreneurship among Senegalese youth by giving the opportunity to teams of students to compete for a funding that would help them set up and/or run their business. This project was aimed at providing students with a platform to develop their creativity and innovative thinking by working in teams and ultimately pitch their business ideas to secure seed funding. All students in schools selected to participate in the competition formed 2-to-4-member teams and worked to find out innovative business ideas which have a potential to be sustainable and create wealth beyond the lifetime of the funds attributed through this project.
This project helped students develop a number of skills including communication and teamwork as they work in teams to put together a concise and convincing business plan. It was also expected that students would be carrying out market research to assess the viability of their business ideas, an exercise which would enhance research skills. This project formed part of the schools' curriculum and the school could provide coaching/training to students taking part in the competition. This competition was also a great opportunity for participants to increase their visibility and build on the school's reputation through media involvement in this project. The British Embassy, the British Council and SONATEL provided funding (up to CFA2,000,000 to the winning teams for the procurement of goods/services to set up or develop their businesses.
Published 23 March 2013