News story
Enterprising businesses from Yorkshire and Humber showcase their royally recognised innovations
The Minister made the call for companies to enter the Queen's Awards for Enterprise as some of the most innovative regional firms showcased …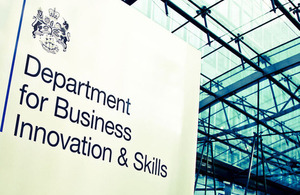 The Minister made the call for companies to enter the Queen's Awards for Enterprise as some of the most innovative regional firms showcased their talents at the Department for Business, Innovation and Skills (BIS) in Sheffield.
The Queen's Awards for Enterprise are the highest accolade a business can receive in the UK and some of this year's winners are presenting their products to the public in South Yorkshire. The displays include recycled fabrics from Camira Fabrics Ltd and specialised industrial clothing from Microgard Ltd.
Business and Enterprise Minister Mark Prisk said:
"The quality of winners from the 2012 Queen's Awards for Enterprise was the highest ever, with over 200 companies being recognised across the UK, and 20 alone from Yorkshire and the Humber. The companies on display in Sheffield are a credit to local and national business as their determination and success will help boost the UK economy.
"The Queen's Awards for Enterprise can make a real difference to a business's prospects and provide national recognition for outstanding achievements. I would encourage companies from across the UK to apply for next year's awards and make 2013 even more successful than this record breaking year of enterprise."
The Queen's Awards for Enterprise showcase will be on display from Friday, 17 August until Tuesday, 4 September at BIS, St Paul's Place, Sheffield.
Entry is now open for the 2013 Queen's Awards for Enterprise and will close on Friday, 28 September 2012 (www.queensawards.org.uk). The winners of the 2012 awards have been invited to attend a special reception at Buckingham Palace on Tuesday, 13 November.
This year the Government is running the _Business in You _campaign to inspire more people to start or grow their business backed by a range of existing business support services provided by the public and private sectors. More information is available at www.businessinyou.bis.gov.uk.
Notes to editors:
The companies that are taking part in the Sheffield showcase are; Boxford Ltd, King Cole Ltd, Melett Ltd, Camira Fabrics Ltd, Microgard Ltd and Pace.

The Queen's Awards for Enterprise are bestowed by Her Majesty The Queen in three categories: Innovation, International Trade and Sustainable Development. The first Awards were made in 1966.

Any UK based company employing more than two people can enter. The awards are competitive and assessors consider performance against other businesses in the same field.

The Awards provide global recognition that a company is amongst the best in its field. Winning can boost staff morale, lead to an increase in sales and improve media coverage. All winners can display the Awards emblem for five years and are invited to attend a reception at Buckingham Palace. Winners also receive a Grant of Appointment certificate and a crystal chalice.

There is also an award for individuals - the Queen's Award for Enterprise Promotion - for which people are free to nominate others who they believe are worthy of recognition for promoting enterprise.

The Government's economic policy objective is to achieve 'strong, sustainable and balanced growth that is more evenly shared across the country and between industries.' It set four ambitions in the 'Plan for Growth' (PDF 1.7MB), published at Budget 2011: * To create the most competitive tax system in the G20 * To make the UK the best place in Europe to start, finance and grow a business * To encourage investment and exports as a route to a more balanced economy * To create a more educated workforce that is the most flexible in Europe.
Work is underway across Government to achieve these ambitions, including progress on more than 250 measures as part of the Growth Review. Developing an Industrial Strategy gives new impetus to this work by providing businesses, investors and the public with more clarity about the long-term direction in which the Government wants the economy to travel.
BIS's online newsroom contains the latest press notices and speeches, as well as video and images for download. It also features an up to date list of BIS press office contacts. See http://www.bis.gov.uk/newsroom for more information.
Notes to Editors
Contact Information
Name BIS Press Office Job Title
Division Department for Business, Innovation & Skills Phone
Fax
Mobile
Email bispress.releases@bis.gsi.gov.uk
Name Dan Palmer Job Title
Division Department for Business, Innovation and Skills Phone 020 7215 5303 Fax
Mobile
Published 17 August 2012