News story
Enterprising Britain
A nationwide competition is launched that will see a town, city or area crowned as the country's most enterprising place.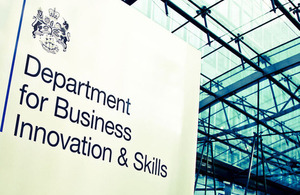 4 May 2012
---
---
If you live in an area with a thriving business community looking to grow and become a real force both here and abroad, then you could be living in the most enterprising place in the UK.
The winner will be the location that can show itself as a hotspot of innovation, and somewhere that is boosting local business and nurturing budding entrepreneurial talent.
Read more on Mark Prisk's blog: Britain's got enterprise
There are three categories in this year's awards:
The most enterprising place in the UK.
The organisation that best promotes enterprise.
The organisation most successful in encouraging businesses to export.
Entries must be submitted by 30 May 2012.
More information about the awards and how to enter.
Business and Enterprise Minister Mark Prisk said:
"There are some fantastic enterprises across the UK that are starting up and growing to become real forces in business.
"Despite the difficult economic conditions, there are many entrepreneurs willing and able to make their business a success, helping to boost the economic growth of their local area and the UK.
"We want to make 2012 the year of enterprise. This is a great opportunity for local authorities and businesses to come together and show that they are creating a vibrant environment to allow enterprise to thrive."
This year the government is running the Business in You campaign to encourage more people to start or grow their business throughout 2012 using a range of existing support services.
Links
Published 4 May 2012