News story
Enterprise showcase gets royal seal of approval
Mr Prisk called for firms of all sizes to enter the Queen's Awards for Enterprise as he met with some of its winners at a showcase held in their…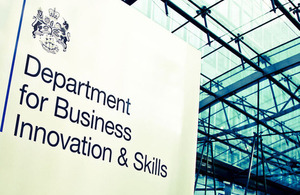 Mr Prisk called for firms of all sizes to enter the Queen's Awards for Enterprise as he met with some of its winners at a showcase held in their honour at the Department for Business, Innovation and Skills (BIS).
Started in 1966, the Queen's Awards for Enterprise are the UK's highest accolade for business success, awarded to outstanding UK companies leading the way in international trade, innovation and sustainable development. It also celebrates individuals who make outstanding contributions to enterprise culture via The Queen's Awards for Enterprise Promotion.
Some of the displays at the showcase include a three-wheeler all-terrain electric mobility vehicle by Beamer Ltd which featured on BBC's Top Gear, a selection of unique detangling hairbrushes by Tangle Teezer and a special Jubilee-themed folding bicycle designed by Brompton Bicycles.
Business Minister Mark Prisk said:
"We've been very impressed by the entries to this year's awards. Of the 209 winners, 180 are small and medium sized businesses and almost half are from manufacturing. This demonstrates how smaller businesses and the manufacturing industry can drive growth for UK PLC. I encourage firms to get involved and submit their entries for next year's awards.
"This showcase forms part of a package of initiatives and programmes Government is leading to show how innovative and world-leading our manufacturing base is here in the UK.
"For example, businesses up and down the country are opening their factories to visitors this month as part of our See Inside Manufacturing campaign. Also, the Make it in Great Britain campaign, which is dispelling the myth that we don't make anything in the UK anymore, will culminate during the Olympic and Paralympic Games at an exhibit at the Science Museum.
"Rightfully so, image is important, but we also need to ensure that businesses get the support they need to grow. This is why we have rolled out initiatives such as the £125 million Advanced Manufacturing Supply Chain Initiative and recently re-launched the Manufacturing Advisory Service."
The Queen's Awards for Enterprise showcase will be on display until Friday 15 June.
Entry is now open for the 2013 Queen's Awards for Enterprise and will close on 28 September 2012.
**Notes to editors:
**1. **The Queen's Awards for Enterprise
**
The Queen's Awards for Enterprise are bestowed by Her Majesty The Queen in three categories: Innovation, International Trade and Sustainable Development. The first Awards were made in 1966.
Any UK based company employing more than two people can enter. The awards are competitive and assessors consider performance against other businesses in the same field.
The Awards provide global recognition that a company is amongst the best in its field. Winning can boost staff morale, lead to an increase in sales and improve media coverage. All winners can display the Awards emblem for five years and are invited to attend a reception at Buckingham Palace. Winners also receive a Grant of Appointment certificate and a crystal chalice.
There is also an award for individuals - the Queen's Award for Enterprise Promotion - for which people are free to nominate others who they believe are worthy of recognition for promoting enterprise.
**Images
**Images from today's event can be found on the BIS Flickr site
BIS's online newsroom contains the latest press notices, speeches, as well as video and images for download. It also features an up to date list of BIS press office contacts. See [http://www.bis.gov.uk/newsroom](http://www.bis.gov.uk/newsroom) for more information.
Notes to Editors
Contact Information
Name BIS Press Office Job Title
Division Department for Business, Innovation & Skills Phone
Fax
Mobile
Email bispress.releases@bis.gsi.gov.uk
Name Matt Barker Job Title
Division Department for Business, Innovation and Skills Phone 020 7215 5946 Fax
Mobile
Published 13 June 2012