News story
Enterprise Allowance gives Scottish businesses a boost
Thousands of small Scottish businesses supported by the UK Government's Employment Allowance.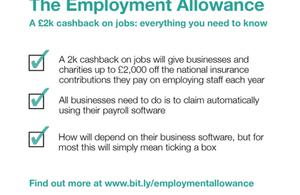 More than 68,000 Scottish employers are benefitting from the UK Government's Employment Allowance in Scotland, figures out today have shown.
The Employment Allowance is a reduction in National Insurance Contributions (NICs) that an employer pays on their employees, and is worth up to £2000 for eligible businesses and charities.
Announced at Budget 2013 and launched in April this year the allowance is simple to claim and easy to administer. Businesses simply confirm their eligibility for the allowance through their regular payroll processes.
The new data coincides with a recent survey by the Federation of Small Business (FSB) amongst small businesses about the allowance which found that across the UK many small businesses have used it to invest in staff:
18% have used it to increase wages
17% to hire additional staff, 12% for training
8% for more staff hours for current staff
18% have used it to invest in their businesses through equipment, machinery, or premises
Scottish Secretary Alistair Carmichael said:
We are committed to making the UK the best place in the world to start and grow a business. Being part of the fastest growing economy in the G7, having access to a large domestic market and an extensive global trade network gives Scottish businesses a head start but this is only the start.

The Employment Allowance gives Scotland's small businesses - the driving force of our economic recovery - and the innovators, pioneers and major employers of the future greater ability to invest, expand and create new jobs.
Andy Willox, Federation of Small Businesses' Scottish policy convenor, said:
The UK Government's Employment Allowance is helping Scottish small businesses do what they do best: sustaining and creating jobs across the length and breadth of the country.

This scheme boosts small employers, mitigating some of the growing pains which expanding businesses face. Keeping up the pace of recovery will require even more hard work from growing Scottish small enterprises and this scheme is giving them a real shot in the arm.
Published 7 November 2014