World news story
Ensuring a positive business impact
Senior officials, parliamentarians and business leaders join forces to promote responsible business and investment in Burma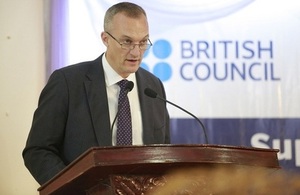 As part of the UK government's work in support of responsible business and investment in Burma, the British Council hosted a high level meeting in Naypyitaw on Wednesday 5th February to discuss how to promote responsible business and investment in Burma. Participants considered how they can work more strategically to promote investment that, as well as providing economic benefits and growth, is respectful of the needs of communities and the natural environment. British Council Director Kevin Mackenzie, in opening the event, said:
We are very pleased to be supporting the government in this important area. Adherence to the principles of responsible business is essential as a means both of attracting foreign investment and ensuring that the people and natural environment benefit from this.
Director General U Aung Naing Oo of the Directorate of Investment and Companies Administration (DICA), emphasised the importance of 'quality investment' in Burma, and Professor Dr. Aung Tun Thet, Senior Economic Advisor to H.E. President Thein Sein, emphasised the need for corporate social responsibility (CSR) to be 'a core part of business strategy and not an afterthought or add on '.
The meeting also demonstrated the work that has been led Burma's business community. Daw Khine Khine Nwe, Chairman of the CSR and Industrial Relations Committee of the country's Chamber of Commerce (UMFCCI) stated that 'businesses should aim not only for profits but also for the sustainability of the natural environment, working environment, society and the community'.
The British Council's programme, in partnership with the UK-funded Centre for Responsible Business, is part of a wider initiative led by the UK government. Anthony Preston, Head of the British Embassy's Prosperity Team said:
Today's meeting is one part of a programme of work that the UK Government is supporting, to ensure that the new investment that this country receives is sustainable, equitable and ethically viable. Business, both domestic and foreign, has a key role to play in the economic reform and democratisation of this country. We share the wish of H.E. President Thein Sein's Government - to help create an environment where ethical business can flourish and unethical business flounders.
Further information
The following Ministries and Government bodies were represented at the event:
National Planning and Economic Development, Commerce, Environmental Conservation and Forestry, Labour, Social Welfare, Agriculture and irrigation, Home Affairs, Cooperatives, Livestock Fisheries and Rural Development, Telecommunications, Energy, Mining and Finance, as well as from the Supreme Court and the Attorney General's office.
The British Council has been working closely with Directorate of Investment and Companies Administration (DICA) to strengthen its capacity through training its staff to understand and be able to apply key international standards such as the UN Principles on Human Rights and Business.
The UK is the founding donor and biggest contributor (£0.6 million) to the Centre for Responsible Business, which is working with business, civil society and government to determine what responsible business means in practical terms in this country. It is affiliated with the UK-based Institute for Human Rights and Business.
Published 5 February 2014