World news story
Enrico Letta chairs the XXI Pontignano Conference: "European Welfare Democracy"
The XXI annual Pontignano Conference will take place in the Certosa di Pontignano, near Siena, 4-6 October.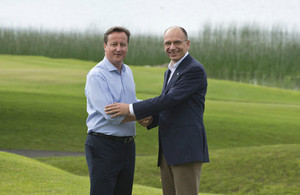 This is the most important Anglo-Italian bilateral event, organised by the British Council and the British Embassy Rome.
The Pontignano Conference, established in 1993, brings together politicians, businessmen, journalists and opinion-makers from both the UK and Italy, every year. Now in its 21st year, the Conference will be chaired by Lord Chris Patten and, for the first time, by the Italian Prime Minister Enrico Letta, who has taken over from Giuliano Amato.
The theme of this year's conference is "European Welfare Democracy: changing gear or changing vehicle?", a theme that affects both the UK and Italy. The conference will start on Friday 4 October at 5pm at the Aula Magna of the University of Siena, with the message from the UK Prime Minister David Cameron, followed by the speeches by Italian Prime Minister Enrico Letta and Welfare Ministers Enrico Giovannini and Mark Hoban. Minister for Education, University and Research Maria Chiara Carrozza and the shadow minister for Europe Emma Reynolds will then join the panel speakers in order to participate to a Q&A session from the floor. [The Friday session is the only one open to journalists].
The debate will then continue on Saturday and Sunday in the beautiful setting of the Certosa di Pontignano, under the Chatham House Rule. The participants will analyse Europe's chances of maintaining a leading role on the global scene. How much, and what type of growth do we need to remain welfare democracies? What changes are needed for the EU to avoid global irrelevance? What is Europe educating young people for? How can European Democracy change to reverse declining trust and increasing populism?
The closing session on Sunday morning will focus on a current affairs topic chosen by the delegates.
The XXI Pontignano Conference is supported by Shell, Finmeccanica, Investitori Sgr, MPS, Enel, IDeA FIMIT, Jaguar, Vodafone.
Press Accreditation
Opening session of the XXI Pontignano Conference Friday 4 October 5pm, University of Siena E-mail: uffstampa@unisi.it - tel. 0039 0577 232 168/257
Chatham House Rule
When a meeting or a part of one takes place under the Chatham House Rule the participants are free to use the information received but can not reveal the identity or affiliation of those who supplied the information nor of any other participant who supplied the same information.
Further information
Published 30 September 2013
Last updated 4 October 2013
+ show all updates
Added translation
Added link to background papers (brochure, programme and list of participants).
Added translation