News story
Enhanced inspection to continue until hazards reduce further
A report published today underlines how much work remains to be done at Dounreay before the site can be left in a safe condition for future generations.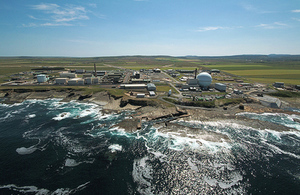 The Office for Nuclear Regulation Chief Nuclear Inspector's annual report says its inspection of the site will be at an "enhanced level" because of the continuing presence of major radiological hazards.
Welcoming the report, DSRL managing director Mark Rouse said the company is on course to complete the clean-up of the site by 2022-25.
"While many of the major hazards left over from nuclear research have been destroyed or reduced, much remains to be done before we can hand this site back to the Nuclear Decommissioning Authority in a condition that is safe for future generations," he said.
"We will continue to place the protection of people and the environment above everything else as we reduce the remaining hazards. Enhanced levels of inspection are an important part of maintaining this focus on safety and provide additional assurance to staff, stakeholders and the wider community about the conduct of decommissioning activity."
The ONR's Chief Nuclear Inspector's annual report is available on their website.
Published 5 November 2013