Press release
Enhanced checks to give public greater confidence in taxi drivers
Taxi licensing authorities will be able to apply for enhanced vetting checks for all their taxi and private hire vehicle drivers under new government proposals to ensure the safety of vulnerable people.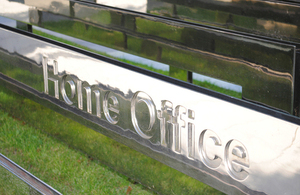 The proposed changes - part of plans to simplify and reform the system of criminal record checks - will give reassurance to women travelling alone and other vulnerable customers who use taxis and mini-cabs.
Under the current regime only drivers who regularly pick up children or vulnerable adults have been eligible for enhanced checks. However, it has become commonplace for some licensing authorities to apply for enhanced checks regardless of the role their drivers have. The proposed changes will standardise this practice and simplify the system.
Following the proposals for reform of work place checks in the Protection of Freedoms Bill, ministers have announced their intention to:
Make all taxi and private hire vehicle drivers eligible for enhanced criminal records checks; and
Enable licensing authorities to check whether any applicant for a taxi licence is barred from work with children or vulnerable adults.
Lynne Featherstone, Criminal Information Minister, said:
'We are determined to ensure the criminal records scheme is balanced to respect civil liberties and protect the public.
'Taxi drivers provide a valuable service transporting children to school and lone women home after a night out so it is only right that the public should have confidence proper checks have been carried out.
'These proposals will ensure that licensing authorities have all the information they need to make informed decisions before granting licences to drivers.'
The changes are part of a radical overhaul of the vetting and barring and criminal records regime intended to scale it back to common sense levels, while still ensuring adequate protections are in place where they are needed most.
Linda Craig, director of Suzy Lamplugh Trust, said:
'Suzy Lamplugh Trust welcomes this announcement and believes that all licensing authorities should ask for enhanced checks in making decisions about granting licences. The public are encouraged to use licensed minicabs and taxis so these licences must deliver the safety the public expects.'
Licensing authorities will make the final decision on whether to grant a licence based on the information available to them. Criminal records checks play a vital role in recruitment practices, providing employers with the information they need to employ the right person for the role. But a criminal record check alone should not replace correct employment practices and supervision of staff.
Local Transport Minister Norman Baker said;
'When you get into a taxi, particularly late at night, you want to have confidence that you are in safe hands. I therefore welcome this announcement which will make people feel more secure.'
Notes to editors:
1. The proposals will mean new taxi and private hire vehicle drivers are eligible for an enhanced criminal records check before they are issued with their licence. Current drivers will be required to have the additional checks when they apply to renew their licence.
2. Enhanced checks go beyond standard checks and disclose relevant non-conviction information held by local police forces and details of any information from the Independent Safeguarding Authority's barred list.
3. Changes will be made by secondary legislation as soon as practicable.
4. Information on the Protection of Freedoms Bill is available here:
http://www.homeoffice.gov.uk/publications/about-us/legislation/protection-freedoms-bill
5. The government published its report into the vetting and barring scheme in February 2011:
http://www.homeoffice.gov.uk/crime/vetting-barring-scheme/
6. For more information call the Home Office Press Office on 020 7035 3535.
Published 18 January 2012