World news story
English UK Fair, Lima 2013 strengthens links with Latin America
The English UK Fair, Lima 2013 brought together 77 accredited UK English language centres and study abroad agents from Central and South America.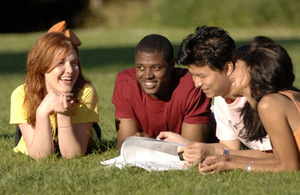 The Lima 2013 edition of the English UK Fair brought together 77 accredited UK English language centres in the Peruvian capital, Wednesday 17 – Saturday 20 of April. The fair was organised by English UK, the British national association of English language teaching centres, which represents numerous institutes in the public and private sectors.
Lima 2013 included one–on-one meetings and seminars, as well as a packed social programme for networking purposes among study abroad agents, educational consultants, private language schools, educational trusts and charities, further education colleges, and universities. The British Ambassador in Peru, James Dauris, hosted an evening reception on Friday 19 April.
UK Trade & Investment (UKTI) worked in partnership with English UK Fair, the British Council and Visit Britain to secure the attendance of 33 of English UK's accredited language centre members in order to strengthen ties with 44 agents from Peru, Mexico, USA, Brazil, El Salvador, Venezuela, Colombia, Ecuador, Costa Rica, and Chile.
Feedback from participants was positive, with some saying "educators were of the best quality, and that's what we like to offer to our students. We expect to form long lasting relationships with many of the educators that went to the fair."
Please visit www.englishukfairs.com for further details.
Further information
UK Trade & Investment (UKTI) seeks to promote trade links between British and Peruvian companies. In 2012, UKTI helped over 100 UK companies make business in Peru and shared information with hundreds of Peruvian companies about opportunities to work with British partners.

If you are a British company interested in learning more about business opportunities in Peru, or a Peruvian company looking for British business partners, contact the UKTI team at the British Embassy in Lima: UKTI.lima@fco.gov.uk.
Published 1 May 2013