World news story
English for Vietnamese officers joining UN peace-keeping operations
More officers of the Vietnam People's Army have received English training under the programme funded by the UK Ministry of Defence.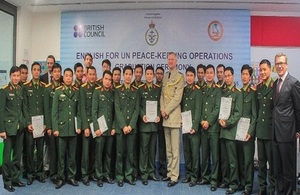 Eighteen Vietnamese military officers who join the UN peace-keeping operation have received certificates after 8 months of attending an English training course with the British Council which is part of the UK Ministry of Defence's language training programme in Vietnam.
The training aims to help these officers to manage day-to-day communications in an international context. Over the past three years, the programme has trained 74 Vietnamese military officers.
Speaking at the graduation ceremony in Hanoi on 13 December, Senior Colonel Luu Dinh Hien, Deputy Director of the Vietnam Peacekeeping Centre of the Ministry of National Defence, said:
No other place is better for English language training than the British Council.
This course marks another important outcome from the signing of the historic Defence cooperation memorandum of understanding between Vietnam and the UK in November 2011. Group Captain Tim Below RAF, UK Defence Attaché to Vietnam said:
We are working with the Vietnamese Ministry of National Defence to expand this programme dramatically in 2015, aiming to nearly double that total number in one year alone. This huge expansion is indicative of the UK's commitment to further developing its strategic relationship with Vietnam, and to the international importance of United Nations Peacekeeping Operations.
Peacekeeping is a collective effort. United Nations Peacekeeping brings a unique universal legitimacy unmatched by any other international peace and security instrument, and contributing forces to international peacekeeping is a measure of a nation with an international voice, a nation which is prepared to stand up in the global order, and a nation which deserves recognition and respect from the world community for doing so.
In the 100th anniversary year of the outbreak of the First World War, the imperative to support global peace and stability through peacekeeping operations round the world was brought into stark focus only 2 days ago on 11 November when the UK was among many nations across the world to recognise an annual Day of Remembrance for those soldiers of all Armed Forces who have lost their lives in the cause of the common good.
Published 13 November 2014