News story
Argentina vs. England
Advice for fans travelling to Salta and Buenos Aires for England's two match series with Argentina on 8 and 15 June 2013.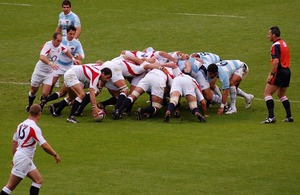 Date: 8 June 2013
Venue: Padre Martearena Stadium, Salta
Date: 15 June 2013
Venue: Velez Sarsfield Stadium, Buenos Aires
Kick off time: 16:30 (local time) for both games
As well as this advice, check out our travel advice for Argentina.
Passports and visas
You do not need a visa to travel to Argentina as a visitor unless you're travelling on an Emergency Travel Document. Your passport should be valid for the proposed duration of your stay.
Your European Health Insurance Card (EHIC) is not valid in Argentina, so travel insurance is essential, even if you're only going for one night - it could save you a lot of money if you get into difficulties
Passport thefts are common in Argentina. Your passport is not required to gain entry to the stadiums, so you should leave your passport in a hotel safe or security box and keep a photocopy of the details page with you at all times.
If you lose your passport you will need to obtain a police report and apply for an Emergency Travel Document (ETD) to return home at the Consular Section at the British Embassy in Buenos Aires. The fee for an ETD is £95 payable in cash in local currency or by credit card.
Getting to the stadium
Padre Martearena Stadium – Salta
Address: Avenida Monseñor Tavella S/N, City of Salta, Province of Salta.

By bus: Lines 3B, 8A and the "transversal" (cross city bus) stop right in front of the main entrance. Lines 1A, 2D, 5B, 7E, 7D and the "Troncal" stop between 2 and 4 blocks from the stadium's main entrance. All lines pass through the centre of the city – stops can be found between 2 or 3 blocks from the main square at Plaza 9 de Julio.

By taxi or private transport: 15 minutes drive from the centre of the city. Fans should access by Av. Monseñor Tavella only. Parking available for 1000 vehicles.
Velez Sarsfield Stadium – Buenos Aires
Address: Avenida Juan B. Justo 9200, Liniers, Buenos Aires City.

By bus: lines 1, 2, 4, 5, 21, 28, 34, 46, 47, 52, 80, 86, 96, 106, 108, 109, 162, 166, 172, 289, 326, 343. Bus terminal "Parada Liniers (Liniers stop)" mid and long haul buses.

By train: TBA (Trenes de Buenos Aires) Sarmiento rail line to Liniers station.
At the matches
There will be ticket checks and random body searches at the entrance to the turnstiles. Vehicles, purses and backpacks will also be checked. To avoid a last minute bottleneck you should get to the stadium early - doors will open at 14:00.
Forbidden items include large amounts of lighters, any sharp items as well as those that can be thrown or considered potential weapons (such as radios, batteries, bottles, cans, deodorants, perfumes and any type of fireworks). These may be confiscated and are unlikely to be returned. Alcohol is banned within the stadium. Flags, banners and musical instruments are permitted.
Fans should carry some form of photo ID, such as a photocopy of their passport or a driving licence, but this is not a mandatory requirement
Tips
As in any other city beware of pickpockets and bag snatchers at airports, railway stations, around the town centre and when using public transport. Only carry what you need, leave spare cash and valuables in hotel safety deposits. Keep valuables out of sight (i.e. cameras)
It is best to move around in groups rather than alone, especially at night.
Drinking and driving and taking drugs attract severe penalties.
British Embassy Buenos Aires address and telephone numbers
Dr. Luis Agote 2412
C1425EOF, Buenos Aires

T: +54 11 4808 2200
E: consular.baires@fco.gov.uk
Emergency services numbers
Emergency Services: 911
Fire: 100
Police: 101
Ambulance: 107
Published 23 May 2013