England "ready, willing and able" to deliver World Cup in 2018
Prime Minister David Cameron meets FIFA President Sepp Blatter to discuss England's bid.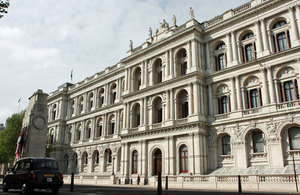 During his meeting with FIFA President Sepp Blatter in Downing Street on 13 October Prime Minister David Cameron said England is "ready, willing and able to deliver the best World Cup ever and the best legacy ever" if the bid is successful.
The Prime Minister stressed England's bid had the "highest level of Government backing" and the Government was working to strengthen the bid on a day to day basis.
He argued that England is well prepared to host the World Cup with stadiums, transport links and infrastructure in place and said England's strength lay in "its people" who had been instrumental in kicking racism right out of football.
FIFA's Executive Committee will select the hosts for the 2018 and 2022 tournaments in December.
The Foreign Office is working closely with the bidding company, England 2018, in support of the bid. Our Embassies and other posts around the world are actively engaged in the campaign and are committed to winning the right to host this prestigious competition for England.
A World Cup in England is predicted to attract 3 million international visitors who will contribute over £3 billion to the UK economy.
Published 14 October 2010