Engineers receive Afghanistan campaign medals
Soldiers from 32 Engineer Regiment have been presented with their campaign medals after a demanding six-month tour in Afghanistan.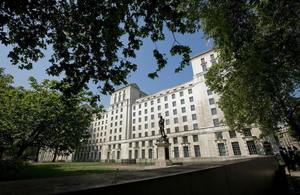 During the tour the soldiers provided engineering support to the NATO-led mission to prepare the Afghans to fully take over the security of their own country.
The 330 soldiers, who are part of 7th Armoured Brigade, better known as the Desert Rats, supported 3 Commando Brigade Royal Marines during the tour and were based in Lashkar Gah and Nahr-e Saraj between March and September 2011.
They were instrumental in constructing and upgrading tactical infrastructure for the teams of British soldiers who were preparing the Afghan National Security Forces for transition in Helmand province.
Personnel were primarily involved in the construction and upgrade of forward operating bases and military checkpoints and also cleared convoy routes by detecting and destroying hidden improvised explosive devices.
Sapper Leonid Remizov, who is originally from Russia but moved to Lincoln when he was 14, received his medal along with the rest of the regiment at a special ceremony at his barracks in Bergen-Hohne in northern Germany.
He said:
I was based at a checkpoint near Lashkar Gah. It was a really good tour, I helped build checkpoints and upgraded some of our facilities. I'd do it again, definitely, but it was a lot of hard work. It was hot and dusty.
We are helping the Afghans to rebuild their country; one of our biggest projects was to build a new bridge which a lot of locals came to watch. They were really happy about it as the bridge will really help them in their daily lives.
Sapper Remizov, who joined the Army in 2007 and completed a variety of training exercises in Germany, the UK, Canada and the Falkland Islands in the run up to his tour, added:
I met and spoke with a lot of Afghans while I was out there and we got on pretty well.
Arriving back home after the tour was a big weight off our shoulders; it is nice to come back and relax for a change. It was my first operational tour and it was a really proud moment to receive my medal.
The parade, which was watched by the families and friends of the soldiers, also included music from the Band of the Irish Guards.
Addressing the soldiers during the ceremony, Major General James Bashall, General Officer Commanding of Germany-based 1 (UK) Armoured Division, who presented the medals, said:
For most of us there are moments in our careers that are memorable and special. For all of you I hope this is a memorable day; I would like to thank you for your work in Afghanistan.
We are making progress in Afghanistan but that progress is not always glamorous and some jobs don't receive much publicity, but it is essential nonetheless. The work you did in Afghanistan is saving lives.
The regiment should have a real sense of pride and achievement but we are nothing without our families; we must remember and thank our families whose support has been fantastic.
The men and women of 32 Engineer Regiment will now begin over four weeks of well-deserved leave before returning to their barracks to begin training for their next mission.
Published 20 October 2011