Engineers earn NCO stripes
Cambridge Sappers earned their first non-commissioned officer (NCO) stripes after completing a four-week course which concluded last week with one of the largest pass off parades Waterbeach Barracks has ever seen.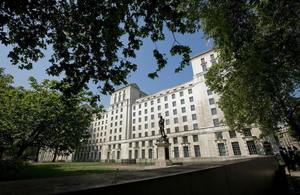 Forty-seven soldiers from 25 and 39 Engineer Regiments, who overcame simulated enemy attacks, survived on 24-hour ration packs and completed night-time patrols, took their first steps on the promotional ladder in front of proud family and friends on Friday 22 October 2010.
The Sappers based at Waterbeach Barracks successfully completed the four-week potential non-commissioned officers selection course.
Friday saw the young soldiers proudly march onto the parade square for their pass off parade that marks the end of the course. Over the next weeks and months many of the soldiers will receive their first stripe as they are promoted to Lance Corporal.
Commander 12 (Air Support) Engineer Group, Colonel Andy Phillips, who inspected the parade, said he never ceased to be amazed at the quality of the Army's junior leaders and that it was testament to their character and resilience that they had passed off.
He added:
You genuinely represent the best of the best and I am envious of the journey you are about to embark upon.
The selection course saw the young soldiers complete a mixture of theoretical lessons and a range of packages including leadership training, navigation skills and living in the field.
Cadre Officer Captain Phil White said:
All the soldiers richly deserve to be promoted. Promotion is hard-fought and the most difficult rank to attain is the first.
Every soldier on parade worked hard, remained focused and successfully completed the course. They return to their regiments with new skills and confidence. We set high standards in the regiment and they met them all. They all deserve our congratulations.
Sapper Chris Boulter said:
It has been a hard four weeks. During the final exercise we were only getting a few hours sleep a night. But we all successfully completed it. It was hard-going, but worth it.
There to watch him on parade was his dad Simon and girlfriend Rachel Warner.
Simon said:
I am very proud. The parade was fantastic; it was very professional and has been an enjoyable day.
Rachel added:
I never really see Chris at work, so to see him on parade was a proud moment.
Published 26 October 2010