Engineers dismantle Cumbrian flood bridge
Army Engineers have returned to Cumbria to dismantle the temporary military bridge that was erected over the River Derwent during the severe flooding of the area in 2009.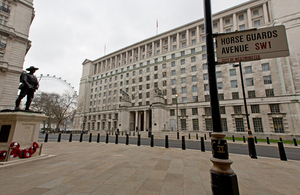 128 soldiers from 64 Works Group Royal Engineers and 53 Field Squadron Royal Engineers, assisted by local Territorial Army soldiers from 4th Battalion The Duke of Lancaster's Regiment and 156 Transport Regiment Royal Logistic Corps, start work today, Monday 21 February 2011.
They will dismantle the 170-foot (52-metre) logistic support bridge named 'Barker Crossing' in memory of PC Bill Barker who was killed when the Northside Bridge was swept away.
The bridge sections will then be transported by military DROPS (Demountable Rack Offload and Pickup System) vehicles from the river bank to a yard in Lillyhall Industrial Estate.
42 (North West) Brigade managed the installation of Barker Crossing and is now responsible for its extraction. The Brigade's Commander, Brigadier Bill Aldridge, said:
Barker Crossing was only ever a temporary emergency measure until other bridges could serve the same purpose. The Royal Engineers are very proud of the crossing and are pleased to be returning to Cumbria in happier circumstances. "Extracting the bridge is a relatively complex operation and will mean we have to close Barepot Road for three days to ensure everyone's safety.
We are very grateful to the very patient residents of Barepot and, following talks with them, we will be operating around the clock from Monday 21 February for three days to minimise the disruption.
We feel a part of your community, many of us living, working and being recruited in the area. We have been made most welcome and have been glad to be able to use some of the engineering skills we use in Afghanistan to support Cumbria in its time of need.
Devastating floods in 2009 hit many bridges in Cumbria causing damage and making them unsafe. The Army was requested by the civil authorities to build a temporary footbridge in Workington when the town was divided by the River Derwent.
Cumbria is still recovering from the flood damage which occurred fifteen months ago and, following much restoration work, the nearby Calva Bridge was opened to pedestrians last week.
Published 21 February 2011