Press release
Enforcement Notice issued following fire at Bridgefoot Quarry
The Environment Agency has, today (Wed), issued an Enforcement Notice to Akhtar Waste and Energy Developments Ltd for the Bridgefoot Quarry Recycling Centre at Flint Cross in Cambridgeshire.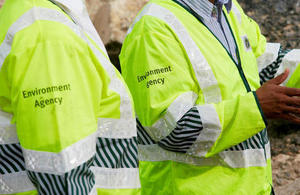 On 13 November 2014 there was a large fire at the Akhtar Waste & Energy Developments Ltd, Bridgefoot Quarry facility.
The notice requires all waste material remaining on site, including the ash, to be removed by 16 February 2015.
Kevin Rutterford, Environment Manager at the Environment Agency said:
We have worked closely with partners including Cambridgeshire Fire and Rescue Service to reduce the environmental impact this fire could have caused. The fire was allowed to burn in a controlled manner rather than using water to extinguish the flames in order to protect groundwater beneath the site.

Issuing this Enforcement Notice is an extended measure to ensure the site is properly cleared of ash and debris to further protect the groundwater from potential pollution.
This notice also suspends all operations at the recycling centre and means that no further waste can be accepted, treated or stored at this site until it is deemed to be suitable for operation again.
Published 17 December 2014