News story
Energy leaders urge for greater investments in renewables and low-carbon, climate friendly projects
Abu Dhabi Sustainability Week: energy & finance leaders discuss ways to encourage private sector investment in climate friendly projects.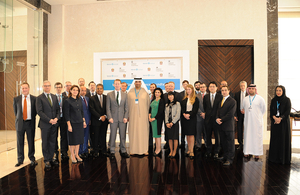 Press notice: 13/006
Today, during the Abu Dhabi Sustainability Week (ADSW), energy and finance leaders met to discuss ways to encourage greater private sector investment in renewable energy and low-carbon, climate friendly projects as a tactic to mitigate climate change and diversify the global energy mix.
Specifically, leaders focused on the growing opportunities for sovereign wealth funds, development banks and pension funds to view the new energy industry as a growth opportunity, especially in developing economies.
The discussion was hosted by Rt. Hon Gregory Barker MP, UK Energy and Climate Change Minister and Dr. Sultan Ahmed Al Jaber, UAE Special Envoy for Energy and Climate Change and CEO of Masdar.
Energy and Climate Change Minister Greg Barker said:
"This is an important agenda. Not just for the environment but for business. The opportunities for the global, low-carbon economy are huge and growing at an exponential rate. Clean energy and a range of resource efficient projects can expect growing interest in attracting investment as new financial participants crowd into this fast developing market."
"The meeting today helped to lay a foundation to better identify concrete areas of opportunity for investment in developing economies and ideas on how to scale up finance for climate solutions.
"This joint dialogue between the private and public sectors is absolutely vital and the UK and the UAE are working together to drive this agenda forward. I look forward to continuing this collaboration."
A number of ideas emerged, including contract structures for power pricing, possible dimensions for the Basel rules on finance, and ways in which finance is securitized. Participants agreed to take the discussion forward and establish a working group to explore the suggested proposals more deeply.
Dr. Sultan Al Jaber said:
"Increased collaboration and institutional investment are critical in diversifying the global energy mix and addressing climate change."
"The realities of climate change should be viewed as an economic opportunity. Abu Dhabi is investing in the future of energy by working with investment partners and governments, like the United Kingdom, to build sophisticated, large-scale renewable energy projects that showcase the economic returns, and environmental benefits, of addressing these pressing issues."
Uniting more than 30,000 participants from 150 countries, ADSW gathered leaders from academia, industry and government to tackle the business, technology and financial challenges required for sustainable development and renewable energy adoption.
Senior representatives from several financial institutions and energy investors including the European Investment Bank, International Finance Corporation, Abu Dhabi Investment Council, BNY Mellon Corporate Trust, African Development Bank, Mubadala Development Company, Citi Corporate and Investment Banking, Bloomberg New Energy Finance, UK Green Investment Bank, Gulf Investment Corporation, World Bank and others.
Notes for editors
Masdar is Abu Dhabi's renewable energy company advancing the development, commercialisation and deployment of clean energy technologies and solutions. The company serves as a link between today's fossil fuel economy and the energy economy of the future. Backed by the Mubadala Development Company, the strategic investment company of the government of Abu Dhabi, Masdar is dedicated to the Emirate's long-term vision for the future of energy.
Published 13 January 2013