Energy: Britain backs renewable sources for 2m poor people
The UK is helping 2 million people in some of the world's poorest countries to access clean and reliable energy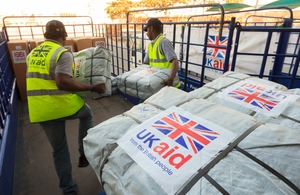 The UK is helping 2 million people in some of the world's poorest countries to access clean and reliable energy, Deputy Prime Minister Nick Clegg and Development Secretary Andrew Mitchell said today.
The Deputy Prime Minister announced Britain's support for the Scaling-Up Renewable Energy Programme at a meeting of Sustainable Energy for All (SE4All) ahead of the United Nation's Rio+20 conference.
The Sustainable Energy for All meeting is being led by UN Secretary General Ban Ki-Moon and will be a priority issue at the Rio+20 conference to reduce poverty, and ensure environmental protection in June.
The Scaling-Up Renewable Energy Programme is a successful climate investment fund which invests in promising green energy projects in developing countries, such as local energy grids or geothermal projects.
Access to reliable energy is a fundamental human need, allowing people to cook food for their families and heat and light their homes. Evidence shows that ensuring households, businesses and governments can access clean, sustainable and reliable energy sources is an essential part of fostering economic growth.
A chronic lack of reliable energy is preventing low-income countries from developing and prospering. By partnering public finance with private investment, the world can help boost economic growth and tackle the global threat of climate change.
Deputy Prime Minister Nick Clegg said:
It is completely unacceptable that in today's world an estimated 900 million people will still be without electricity by 2030.

Supporting some of the world's poorest places to access energy doesn't just make humanitarian sense; it also makes good economic sense too. Reliable, sustainable sources of energy are crucial to stimulating growth and stability.

I hope we will be able to build on today's commitment at the UN's Rio+20 conference in June.
The UK's increased investment will encourage further financial support from other governments, banks and the private sector for low carbon energy projects in poor countries. It will also ensure up to 16 million tonnes of CO2 emissions are avoided.
Secretary of State for International Development Andrew Mitchell said:
We must develop trade and investment in renewable energy and help the poorest countries get the energy they need to grow and develop. And in a world increasingly affected by climate change we should do everything we can to support clean and sustainable energy sources.

Government support cannot solve this alone. I am excited to see that there are even more opportunities now for private capital to invest in a sustainable and economic future.
The UK funds will help to mobilise greater private sector involvement in renewable energy projects and in access to energy for the poor in developing countries. If the Scaling-Up Renewable Energy Programme continues to achieve its targets to focus on results, innovation and the private sector, Britain proposes to double today's investment.
The Scaling-Up Renewable Energy programme is one of two global Climate Investment Funds - trust funds managed by donors and recipients to support developing countries' plans for low carbon, climate resilient development.
Climate Investment Funds are helping 45 developing countries to pilot low-emissions and climate-resilient development, and supporting country level action to achieve growth and reduce poverty.
Published 24 April 2012