News story
Energy and utility industries set out plan to tackle skills crisis
The government will invest in partnership with energy and utility companies to address skills and recruitment issues in the sector.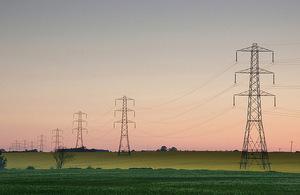 The government and energy and utility employers today set out an action plan to strengthen the UK's energy and utility workforce over the next three years.
As an estimated 50 per cent of current employees are set to leave these sectors and 200,000 new recruits will be needed by 2023. The Energy and Efficiency Industrial Partnership sees 67 employers working together to fill training and skills problems in the power, gas, water, renewables and waste management industries.
The partnership, the biggest government scheme of its type, is supported by Energy & Utility Skills (EU Skills), the National Skills Academy for Power (NSAP) and employers including National Grid, British Gas, E.ON UK, Thames Water and United Utilities. The employers will match the government's £33m investment in the partnership to help deliver around 70,000 new learning opportunities including Apprenticeships and traineeships. The partnership will also fund increased training to ensure the industry has the right quantity, quality and diversity of new recruits.
Energy and Efficiency Industrial Partnership Chair and National Grid Chief Executive, Steve Holliday, said:
This investment shows major government recognition of the challenges facing the UK's energy and utilities sectors, and the vital role young people and local communities can play in solving them. The strength and scale of this partnership means it will build consensus within these industries on how to meet the demand for new, innovative power and energy solutions, and build a more secure, sustainable economy for the future.
Sally Cabrini, Business Services Director at water provider United Utilities, said:
We are delighted to be involved in this bold, ground-breaking partnership. It will bring local communities such as ours across the north-west of England, closer to their energy and utility employers. By working together as an industry, we can improve awareness of what we do and grow the pool of young talent in our sector.
The partnership is the largest initiative within the government's flagship Employer Ownership of Skills pilot, which offers investment to develop sector workforces. The scheme empowers employers by giving them flexibility in how publicly funded training is created and delivered. It also focuses on providing opportunities for unemployed young people and those from disadvantaged communities or backgrounds.
Published 10 June 2014