News story
End Year Funding: statement by Northern Ireland Office
Details of exemptions to changes to the rules on End Year Funding for Northern Ireland.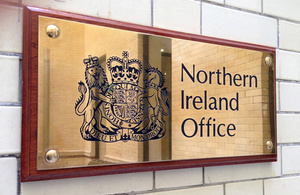 Any money that has not been spent by departments but carried over for use in future years is known as End Year Funding (EYF).
To help tackle the record deficit that the country inherited, the Chancellor announced in June that, regrettably, it was necessary to change the rules on EYF across government.
However the special circumstances of the devolved administrations, including Northern Ireland, were recognised by the Treasury.
And so the Treasury agreed to honour the amount of EYF for NI for the current year.
This amounts to some £217m and has been agreed with the Executive.
It has also been agreed - exceptionally - that if the Executive wishes to carry over money to the next financial year it may do so if the cut in spending in the current year is agreed in advance.
This exception applies only to the devolved administrations and not to Whitehall departments.
The Treasury are also standing by their commitment given at the time of the devolution of policing and justice that any underspends by the Department of Justice may be carried over to future years.
Published 14 January 2011