World news story
Empowering youth for employment in Macedonia
British Embassy supports programme on enhancing employability skills of young people in Macedonia.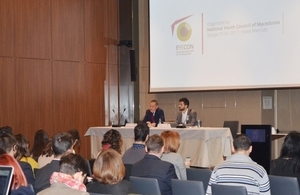 Increasing the share of the youth in the labour market is a theme of common importance for many European countries. Today in Skopje representatives of youth organisations, state institutions, business and civil society gathered to share practices and innovative models for increasing the employability of young people in Europe.
Our ambassador Charles Garrett spoke at the event along with representatives from the Employment Agency in Macedonia, European Youth Forum and National Youth Councils from several European countries.
He said:
To get a job, and to succeed at it, you need to equip yourself with the right skills and the right experience. The skills that gave you success at school or university will not always be the ones you need for success at work. Skills for the workplace are very rarely taught at school. So many young people leaving education find themselves with a fantastic degree but no clear idea about how to make themselves attractive to employers and how to get on once they have a job.
The best employers will support you in your development. But many don't. And how do you develop if you don't yet have a job? The National Youth Council of Macedonia has started just such a programme as part of its work to give young people more and better opportunities. Businesses and others can help to fill the gap by reaching out to schools to work together on programmes like this one.
EYE CON Empowering Youth for Employment Conference EYE CON is organised as part of the project Empowering Youth for Employment implemented by the National Youth Council of Macedonia and supported by the British Embassy in Macedonia.
Published 31 January 2017