Press release
Employment Minister: 'recruitment diversity holds key to unlocking skills gap'
Employers say they want to help build a fairer society yet few are taking the action needed on recruitment.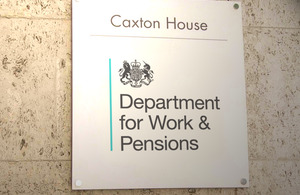 Better recruitment policies which harness the skills of people from disadvantaged groups hold the key to a more secure future for British business, Employment Minister Priti Patel said today (14 September 2015).
The minister has called upon business leaders to match their warm words with positive action, after a poll found that the vast majority said they were ready and willing to take on staff from disadvantaged groups.
Six out of ten companies say they would be happy to employ a homeless person and nearly 7 out of 10 say they would trust an ex-offender's work skills and capability, according to the findings of a YouGov survey.
Yet the reality on the ground seems very different, with talents and skills available amongst these groups – as well as the long-term unemployed, people recovering from drug or alcohol dependencies, and care leavers – all too often overlooked.
Employment Minister, Priti Patel, said:
As our economy continues to recover and grow, so will demand for skills and labour – yet our ageing society will present increasing demographic challenges. To thrive in the long term, businesses need to identify talent and potential wherever it exists.

Of course I understand the pressures businesses are under, but I want our bosses to start seeing potential instead of problems. This is about securing a better future for British business, just as much as it is about giving people a second chance.
The financial benefits to employers of casting the net as far wide as possible in the search for new talent are supported by further research. Almost half of companies surveyed recently by Business in the Community said that they had seen a direct positive financial impact by supporting people from disadvantaged backgrounds back into work.
The call by the Employment Minister is intended to promote debate about how businesses can do more to boost their profits, while spreading hope and opportunity to people in difficult circumstances.
Ms Patel added:
If we want to become a higher wage, lower tax, lower welfare country, as the Chancellor set out in his Budget, then we need to make sure everyone is benefitting from our jobs growth. And businesses have a major role to play in this.

As a key part of our long term economic plan, the Work Programme has helped more than 400,000 people into lasting jobs, pushing long-term unemployment to its lowest level in more than 5 years. The number of people claiming unemployment benefits is at its lowest since 1975. The onus is now on businesses to be open minded and work to access the hidden talent across society.
More information
The YouGov survey
In order to better understand the attitudes of potential employers toward disadvantaged groups, YouGov carried out an online poll from among 630 respondents drawn from its proprietary research panel.
Fieldwork was conducted between 26 June and 2 July 2015.
Business in the Community research
A report published by Business in the Community in January 2015 found that:
90% of companies said they have seen benefits relating to current employees and future workforce as a result of engagement in programmes

92% of companies running employability programmes for disadvantaged groups mentioned benefits related to increasing brand value and reputation

almost half of the companies surveyed said they'd seen a direct positive financial impact from being involved in employability initiatives

63% of companies reported benefits relating to organisational growth such as winning tenders and developing new partnerships or improvements in operational effectiveness
Read the Business in the Community research report.
Contact Press Office
Media enquiries for this press release – 0203 267 5141
Press Office
Caxton House
Tothill Street
London
SW1H 9NA
London Press Office (national media and London area enquiries only – not questions about personal claims) 020 3267 5144
Out-of-hours (journalists only) 07623 928 975
England and Wales (local media enquiries) 029 20 586 then 097 or 098 or 099
Scotland (local media enquiries) 0131 310 1122
Follow DWP on:
Published 14 September 2015