Employers to help reduce reoffending
First day of Business in the Community's Responsible Business Convention.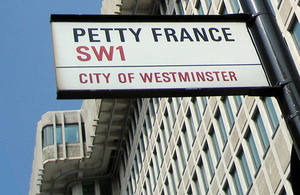 To mark the first day of Business in the Community's Responsible Business Convention, Secretary of State for Justice Kenneth Clarke and former MP Jonathan Aitken joined major businesses to encourage more employers to create opportunities for job seekers with previous criminal convictions.
At an evening reception in London, 150 delegates including representatives from business, prison and probation services and ex offenders will met for a showcase of the Employers' Forum for Reducing Re-offending , a collaboration of businesses committed to reducing re-offending which is managed by Business in the Community.
Commenting, Secretary of State Kenneth Clarke said:
'Gaining employment plays a crucial role in preventing offenders from committing further crimes and helps turn them from a financial drain on society to law abiding tax payers.
'We are committed to giving prisoners work-based skills in order to increase their chances of getting a job on release and are grateful for the work of the EFRR and to all those employers who are prepared to gain the benefits of working with ex-offenders.'
People with criminal convictions face multiple barriers to gain and sustain employment, particularly during periods of high unemployment.  Yet there is a direct link between unemployment and re-offending with two-thirds of people in UK prisons unemployed in the four weeks before their imprisonment.
Re-offending also has huge economic implications, costing the tax payer £11 billion a year. Business in the Community's campaign aims to challenge misconception about the skills and abilities of ex offenders by highlighting to companies of all sizes the untapped potential which many businesses are not recognising.
Published 15 March 2012