Press release
Emma Head to lead HS2 safety team
HS2 Ltd has appointed Emma Head as Corporate Health and Safety Director.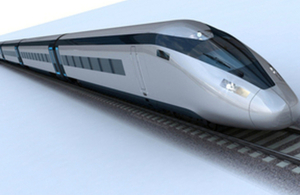 Emma will join from Network Rail where, as Director of Safety Strategy, she led the strategic safety agenda focusing on technology, working practices, culture change, risk management and system safety both internally and across the industry.
With 16 years' experience in UK rail, Emma has worked on both the client and contractor side of the industry across major engineering schemes like the West Coast Route Modernisation Project and London's Crossrail.
Commenting on the appointment, HS2 Ltd Chief Executive Simon Kirby said:
Emma represents a hugely important addition to the HS2 team. Her experience of driving through effective and lasting change on the existing rail network and her unfailing commitment to delivering the highest levels of safety for employees, passengers and local communities will be vital as we move closer to the start of construction in two years' time.
Building from scratch, HS2 has the opportunity to ensure safety is always our key priority. Freed from the constraints of working with an essentially Victorian rail network, HS2 will be able to provide a step change in the way we approach risk management and system safety as well as working culture and practices.
Looking ahead to her new role Emma Head said:
HS2 is an exciting, ambitious and challenging project. It will be a catalyst for positive change both locally and nationally. But it will also provide a unique opportunity to build on our experience and learnings from the existing rail network, as well as relevant foreign experience, making health and safety the first consideration in everything we do.
That means building the safest railway the UK has ever seen. Not just for our workforce and local communities during construction but also for the passengers, line side neighbours and employees during operation. The next two years will be crucial and I look forward to getting started.
Emma is expected to start in August 2015 and will report directly to Chief Executive Simon Kirby.
Press and media enquiries
For enquiries during office working hours, Monday to Friday, 9am to 5pm 020 7944 6149
For enquiries outside of these hours and at the weekend 020 7944 0550
The press and media enquiries line is for accredited journalists only
Published 5 June 2015