World news story
Emirati cyclist participates in Visit Britain's Dunes to Dales
Emirati cyclist Abdulghaffar Al Khaja will depart today from the Arabian dunes to the Yorkshire Dales on a cycling trip inspired by the Grand Départ of the 2014 Tour de France.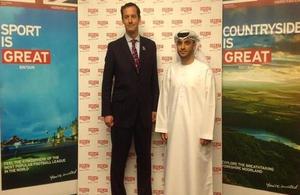 Dunes to Dales initiative was launched in the GCC this summer by UK's national tourism agency Visit Britain. The British Embassy in the United Arab Emirates (UAE) is supporting the initiative.
During this trip, Mr. Al Khaja and three more cyclists from other Gulf countries will enjoy the British countryside, famous for its outstanding natural beauty.
On the route, the cyclists will experience parts of the first stage of the Grand Départ, starting from the host city of Leeds and finishing in the historic spa town of Harrogate. There, the first Maillot Jaune will be presented. The trip will be documented on film and the cyclists' news will be updated on social media channels for their fans and followers to follow in their footsteps.
In addition to cycling, the group will explore other thrills including a bespoke treasure hunt in Ripon courtesy of Yorkshire Trails; a visit to the magnificent Aysgarth Falls in Wensleydale, home of the famous cheese that goes by the same name; and a chance to explore the unique Ripely Castle that has been occupied by the same Ingilby family for more than 700 years.
Mr. Al Khaja said:
"I'm looking forward to this trip and to try cycling at the great dales of Yorkshire".
Her Majesty's Consul General Edward Hobart said:
"I'm delighted to see Emirati cyclist Abdulghaffar Al Khaja and his counterparts in the gulf region participate in Visit Britain's initiative Dunes to Dales. Sport offers an excellent way of bringing young people together and showcasing the beauty of our countryside".
Mr. Al Khaja is the Head of Financial Development Section in Ajman. He became interested in cycling when he realized that many groups practice this form of sports in Dubai and decided to join them. Currently he is part of two groups 'Cycle Safe Dubai' and 'Dubai Roadsters'. They usually ride around Dubai in places like Cycle Park or The Dubai Autodrome.
The other three cyclists joining Mr. Al Khaja in this trip are Mohamed Al-Kuwari from Qatar, Abdulaziz Al-Dawsari from Saudi Arabia and Othman Al Mutairi from Kuwait.
Notes to the editors:
Sport and countryside are part of The GREAT campaign to promote the things that make Britain outstanding. It also includes: culture, heritage, creativity, entrepreneurs, green, innovation, knowledge, music and technology.
For more information on Dunes to Dales, please visit: Dunes to Dales
For more information on Visit Britain, please visit: Visit Britain
Published 26 September 2013