World news story
Embassy supports first Mayors Climate Change Forum in Chile
Greater London authority representative and British Embassy Santiago support Chile's first Mayors Climate Change Forum.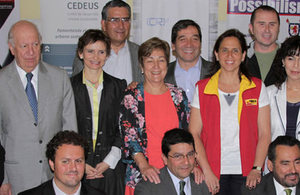 The first Mayors Climate Change Forum, a local government-led initiative focused on cities, local territories and climate change, took place in late November with the support of the British Embassy in Santiago. During the forum more than 25 Chilean municipalities signed a climate change declaration to demonstrate their commitment towards promoting low carbon developments locally in the areas of community planning and management. The event, organised by local NGO Adapt-Chile together with the Chilean Municipal Climate Change Network, was supported by the British Embassy Santiago as well as various other public, private and international institutions.
The forum served as a precursor to nationally support Chile's participation in the upcoming COP20 conference in Lima, Peru, this December. The first session of the event included opening remarks from notable national actors in the climate change arena such as former President Ricardo Lagos, Minister of Environment, Pablo Badenier and the Director General of Foreign Policy at the Ministry of Foreign Affairs, Ambassador Alfredo Labbé.
The second session of the forum focused on climate change efforts in international cities with guest speakers Matthew Dear, Resilience Officer at Greater London Authority and Maryke van Staden from Local Governments for Sustainability (ICLEI). In his presentation, UK Expert Matthew Dear focused on "Coordinating local action to tackle climate change" in the City of London's efforts to overcome current issues facing the metropolis including flooding as well as drought.
Her Majesty's Ambassador Fiona Clouder joined ambassadors from the European Union, Germany and France in Chile in recognising international efforts in combating climate change including collaboration projects in Chile.
Her Majesty's Ambassador Fiona Clouder commented during her speech:
The British Embassy has supported Adapt-Chile in their efforts to increase the participation of municipalities in combating climate change. Through a project supported by the British Embassy last year, a municipal climate change network was formed with the goal of generating public policies in three lines of action: reducing Co2 emissions, improving water management and decrease vulnerabilities to the impacts of this phenomenon…The Mayors Climate Change Forum is a great example of how we can collaborate locally, nationally and internationally to improve Chilean cities.
Further information
To learn more information about the First Mayors Climate Change Forum, visit the website of the Chilean Municipal Climate Change Network (in Spanish).
For more information about this event, contact Felipe Osses, Climate Change and Green Growth Officer, British Embassy, Santiago.
For more information about the events and activities of the British Embassy in Santiago, follow us on:
Published 3 December 2014