World news story
Embassy supports a forum on Football and Development
The event took place on Tuesday 22nd October with the participation of several national and international speakers.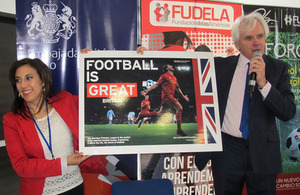 A forum on Football and Development, organised by FUDELA (Fundación de las Américas para el Desarrollo), took place at UDLA University (Universidad de las Américas) on 22nd October. Several aspects of the role of football in society were analysed throughout the day. In the morning three international panellists, including Steve Fleming from the UK, shared their experiences and views on the potential of football to facilitate social change and also on the work that several NGOs, who are members of the Street Football World network, carry out in various countries. Popular sports journalist Alfonso Lasso moderated the conversation. British Ambassador Patrick Mullee gave a welcome speech and donated a poster to FUDELA, who were represented by Executive Vice President Verónica Escobar.
Check out our Flickr gallery here (http://www.flickr.com/photos/uk-in-ecuador/sets/72157637048615153)
Throughout the rest of the day, other important issues about football and its role in a society's development were discussed by representatives of academia, neighbourhood sports organisations, and professional football clubs, among others. Famous footballers also attended the event, such as Luis Fernando Saritama from Liga de Quito and Ecuador's national team. Luis Fernando has long supported the work of FUDELA and on this occasion he was in charge of moderating an informal chat with the young leaders who have participated as beneficiaries in FUDELA's projects. The day ended with a friendly football match with the participation of representatives of some of the supporting organisations and several of the experts who took part in the event.
Get the latest news in our Twitter or Facebook accounts.
Published 28 October 2013