World news story
Embassy plans event to celebrate end of UKBrasil Season
Culture, business and sporting events highligted the best of Britain in Brazil.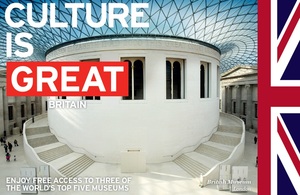 The UKBrasil season was created to mark the opportunities presented by the Olympic connections between Rio and London. Our series of over 80 dynamic and engaging projects were designed to showcase the 'best of GREAT British' business, culture, tourism, education science and innovation in Brazil, and build new and lasting partnerships between the two countries. It was delivered by three primary parties, FCO, UKTI and British Council, working with other government departments, commercial organisations and cultural institutions, and represented the best of the entire UK from England, Northern Ireland and Scotland to Wales.
On the 17th of April, we will celebrate the end of the UKBrasil Season with a high level event at Lapa, in Rio de Janeiro. It will reflect on the Season's greatest moments, and give a few hints of what we have in store for 2013, as the GREAT Britain Campaign comes to Brazil.
Here we recall some of the Season's most important events, to give a fell of what we had in the past seven months:
Antony Gormley Exhibition in Rio de Janeiro, São Paulo and Brasília
Jubilee Sailing Trust tall ship
10 city Education roadshow in partnership with Universities UK to highlight UK involvement in Brazil's Science Without Borders scheme
Friendly England - Brazil Match
GREAT Workshops roadshow to promote UK expertise in hosting mega sporting events to World Cup host cities
Royal Ballet workshops and presentations
Big British Invite at Sao Paulo Fashion Week
Published 8 April 2013