World news story
Embassy marks the 100th anniversary of the end of WWI in UAE
The British Embassy organised three Services of Remembrance in the UAE this week to mark the 100th anniversary of the end of the First World War.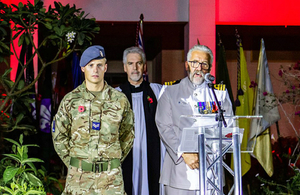 In Abu Dhabi, the British Embassy and the Church Council of St Andrew's Centre Abu Dhabi held a service open to members of the public on Sunday morning. The Service at St Andrews Centre in Abu Dhabi was led by the Reverend Andy Thompson with Arch Deacon Christopher Futcher of Diocese of Exeter also taking part. The Service was attended by the Ambassadors of more than 20 countries that took part in WWI, many of whom will lay wreaths. There was readings from Ambassadors from the UK, USA and Canada.
In Dubai, the service, which was led by Reverend Tim Heaney, was held on Sunday evening at the British Embassy, with hymns performed by the Dubai English Speaking College (DESC) Chamber Choir. The services - which commemorated all those who gave their lives in conflict, including the two World Wars - were attended by veterans from the Second World War and members of the diplomatic, Commonwealth, British and local communities in UAE. A two-minute silence was observed and wreaths laid at both.
On 10 November, there was a ceremony in Dhadnah, Fujairah, which was attended by serving members of the RAF to commemorate the life of Sgt William Donnelly RAF, the only British Serviceman to die of his injuries in the UAE during WWII.
Her Majesty's Ambassador to the UAE, Patrick Moody said:
Every year on 11 November we pay tribute to the men and women of the Armed Forces who paid the ultimate sacrifice. This year is of particular significance because it comes on the centenary of the end of the First World War. We are grateful that we are able to share these occasions with so many others from the community in the UAE – for whom these services are so important.
British Defence Attaché to the UAE, Captain James Lowther said:
In addition to the touching services in Dubai and Abu Dhabi, we are grateful for the support we receive in Fujairah that enables us to hold a Service of Remembrance in Dhadnah for Sgt William Donnelly. This service in particular is a reminder of the close and historic links between the UK and people of the UAE.
Published 15 November 2018