Press release
Embankment work to start on M50 junction 1 near Twyning Green, Gloucestershire
The Highways Agency is to carry out improvements on the M50 junction 1 near Twyning Green, Gloucestershire, from Friday 16 January.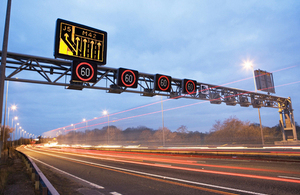 The work, which lasts until 22 March, includes repairing an embankment and installing a new safety barrier, drainage, road markings and traffic signs. The hard shoulder will be resurfaced.
To reduce the need for a long-term closure of the junction 1 westbound exit slip road during the work, it will be widened by altering the kerb line. This will be done under a full closure of the westbound entry and exit slip roads and the hard shoulder and lane one of the M50 westbound from 10pm on Friday 16 January to 6am on Monday 19 January.
In addition, on the night of Sunday 18 January, from 8pm to 6am, there will be a full closure of the M50 westbound between M5 junction 8 and M50 junction 1.
The closures of the hard shoulder and lane one of the M50 westbound and the M50 junction one entry slip road will remain in place 24 hours a day until the end of the scheme. A 50mph speed limit will be in place.
Highways Agency project manager Purnima Kaul said:
The work is needed to repair subsidence of the embankment which is undermining the safety of the carriageway and crash barriers. While carrying out that work we will take advantage of the traffic management to carry out other work such as resurfacing and drainage, which will remove the need to come back a second time.

In order for the work to be carried out safely and efficiently we need to first have the weekend closure and then keep some restrictions in place for the duration of the scheme. Road users should therefore allow extra time for their journeys, especially as the restrictions will be in place 24 hours a day.
During the full closure of the M50 traffic will be diverted from the M5 junction 8 to M5 junction 11 and take the A40 and A417 to join the M50 at junction 2.
When the M50 junction 1 exit slip road is closed traffic will stay on the M50 to junction 2, turn around and return to junction 1 on the eastbound carriageway. During the closure of the M50 junction 1 westbound entry slip road traffic will be diverted to the eastbound carriageway and travel to M5 junction 8 where it can turn around and join the westbound carriageway.
Towards the end of the scheme a second full closure of the M50 westbound will be required to remove temporary safety barriers. The date of this will be publicised nearer the time.
General enquiries
Members of the public should contact the Highways Agency Information Line on 0300 123 5000.
Media enquiries
Journalists should contact the Highways Agency press office on 0844 693 1448 and use the menu to speak to the most appropriate press officer.
Published 6 January 2015