News story
Electric car revolution revs up
Grants of up to £5000 will be available for electric cars from 2011.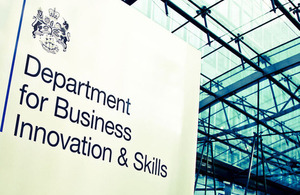 From January drivers in the UK will be given a wider choice of clean, green transport as part of the electric and ultra-low emission car revolution.
Business Minister Mark Prisk and Transport Minister Phil Hammond have today unveiled nine car models that will be eligible for grants of up to £5,000. They also announced five more regions in the UK that will be installing local charging points, having successfully bid for a share of a £20m fund.
The grant will be available to motorists across the UK from 1 January 2011, reducing the cost of eligible cars by a quarter, up to a maximum of £5,000. The following cars have been confirmed as eligible for the Plug-in Car Grant:
Make and Model 1st UK Deliveries
Mitsubishi i-MiEV January 2011
smart fortwo electric drive January 2011
Peugeot iOn January 2011
Nissan Leaf March 2011
Tata Vista March 2011
Citroen CZero Early 2011
Vauxhall Ampera Early 2012
Toyota Prius Plug-in Hybrid Early 2012
Chevrolet Volt Early 2012
##
Plugged-In Places
The Government is also encouraging a new network of electric vehicle recharging points in streets, car parks and commercial retail and leisure facilities as driving electric cars becomes a part of everyday life for pioneering British drivers. The successful bidding consortia in this second phase are based in:
the Midlands.
Greater Manchester.
East of England.
Scotland.
Northern Ireland.
These schemes will provide over 4,000 charging points across the life of the scheme; at home, in on-street locations and at public, workplace and retail car parks. They present a mix of innovative technologies, operating models, incentives and marketing strategies that will inform the future roll out of a national EV re-charging infrastructure.
Business Minister Mark Prisk said:
"Today's news that motorists will be able to choose from at least nine cars under the consumer incentive scheme and that we are expanding the infrastructure for charging electric vehicles will further reinforce the message that the UK is Europe's leading producer of ultra low carbon vehicles.
"Today's announcement further confirms the UK as a global front runner in the market for ultra-low emission cars and open for business for hi-tech green manufacturing. This builds on Nissan's decision to produce the Leaf in Sunderland and the work the Automotive Council is doing to improve the way Government works with industry."
Links
Published 14 December 2010