Press release
Eighth meeting of the UK-Japan Joint Committee on Co-Operation in Science and Technology
The committee discussed a number of areas, exchanging views on science policy and international collaboration.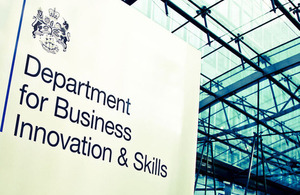 The eighth meeting of the UK-Japan Joint Committee on Co-Operation in Science and Technology took place in London on 28 November 2011, under the agreement between the 2 governments on co-operation in science and technology.
The joint committee was co-chaired by Sir John Beddington CMG FRS, the UK Government Chief Scientific Adviser and Mr Kazuo Watanabe, Ambassador for Science and Technology Cooperation of the Ministry of Foreign Affairs of Japan. It was attended by Dr Masuo Aizawa, Executive Member of the Council for Science and Technology Policy of the Cabinet Office of Japan, and a range of other representatives from the UK and the Japanese governments and science agencies.
The joint committee discussed a number of areas, exchanging views on science and technology policy, international collaboration and related issues. The committee discussed in detail such areas as environment and energy, student and researcher mobility, university- industry collaboration, emergency preparedness, public communication of science and large facilities.
The meeting heard a number of presentations outlining the valuable research collaboration currently being undertaken between UK and Japanese research agencies, research institutes and universities and was pleased to note the high level and quality of this research. The committee also noted that over the last year a number of collaborations had been agreed between UK and Japanese organisations which would do much to facilitate future collaboration to the benefit of both countries. In this context the committee announced it would co-operate in the field of health science and requested that the UK Medical Research Council (MRC) and the Japan Science and Technology Agency (JST) establish a formal memorandum of understanding to launch a Joint Research Exchange Programme at the earliest opportunity.
Areas for future collaboration were also discussed and both sides expressed a wish to develop the existing work further and to explore the possibilities of expanding collaboration into new areas dealing with the major challenges of global issues such as energy, environment, climate change, the digital economy and an ageing society. Possible new areas of collaboration will be further discussed and specified by experts' meetings and scoping workshops which will be held for these topics.
It was proposed to hold the next joint committee in Japan and the specific date of the meeting will be coordinated through diplomatic channels.
Published 29 November 2011