News story
Eid 2013: Deputy Prime Minister's video message
The Deputy Prime Minister has recorded a video message to mark Eid 2013 and the end of the holy month of Ramadan.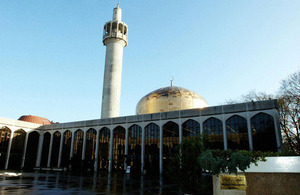 Full transcript
Eid Mubarak. As Ramadan draws to a close I'd like to send my very best wishes to Muslims across Britain and the world for a joyous and blessed Eid al-Fitr.
This festival is an important reminder to all of us of the values of unity, friendship and charity, and the role they play in our day-to-day lives.
That spirit of community is the foundation on which modern Britain, in all its diversity, is built.
During Eid, our thoughts of course turn to those people in countries such as Syria, where unrest and conflict has made observance of Ramadan difficult, and the need for kinship and peace has never been greater.
At home too our thoughts are with those neighbourhoods who have recently seen sickening attacks on their mosques.
In Britain, we will always stand up and speak out against violence, discrimination and abuse, wherever it occurs, because together, we make our country stronger, and, with tolerance and respect, we ensure a fairer society and a better future for all our children.
I hope you enjoy the holiday. Eid saeed.
Published 7 August 2013