World news story
Education UK Alumni awards 2016 announced in Saudi Arabia
The awards celebrate the UK Alumni in Saudi Arabia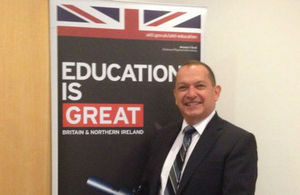 The British Embassy and British Council in Riyadh announced the first-ever Education UK Alumni awards 2016 to honour outstanding success in entrepreneurship, professional achievement, and social impact by UK alumni in Saudi Arabia who have studied at UK higher education institutions. All UK alumni who have returned to Saudi Arabia after completing their higher education studies in the UK, and studied at a UK university in the past ten years are eligible to apply or be nominated for this award.
British Ambassador to Saudi Arabia Simon Collis said:
Over the last decade more than 100,000 Saudi students have studied in UK universities and colleges and we look forwarding to welcoming many more. The Education UK Alumni Awards 2016 celebrate the impact of the experience of studying and living in the UK and I would encourage UK Alumni in Saudi Arabia to apply for this award
British Council Saudi Arabia Charlie Walker, Country Director said:
The best thing about studying in the UK is that it's truly global, culturally diverse and offers valuable skills that help in accelerating professional aspirations and opening up wider opportunities. The award recognises these achievements and the winners will also raise their international profile, expand their networks, and enhance their careers.
To apply or nominate a UK Alumni for the award go to the online application form
The awards will be presented in three categories:
Professional Achievement Award: Recognises alumni who have distinguished themselves through exemplary leadership and achievements in their professional industry, and who can demonstrate the highest level of integrity and character in their professional career.

Entrepreneurial Award: Successful applicants in this category will be active in initiating, or contributing to, innovative new business opportunities with strong growth prospects. This is the award for self-starters, go-getters and risk-takers.

Social Impact Award: The Social Impact Award acknowledges alumni who have made an exceptional contribution and commitment to creating positive social change and improving the lives of others.
This year the award will be hosted in 10 countries – Brazil, China, Hong Kong, India, Indonesia, Nigeria, Pakistan, Saudi Arabia, Turkey and USA. The winners of the award will be announced at a gala award ceremony in March 2016. The awards recognise the outstanding achievements made by business professionals, entrepreneurs and community leaders who have demonstrated how their UK education has impacted on their career.
Applications for the Education UK Alumni Awards 2016 are now open and the last date to receive applications is 31 October 2015. More information on the Education UK Alumni 2016 awards is here
or watch the video here
Published 13 September 2015