Education Secretary sets out government plans for schools
The Education Secretary Michael Gove has outlined plans for an overhaul of schools and teaching in England.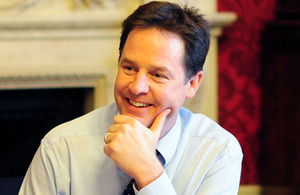 The plans, set out in the 'The Importance of Teaching' White Paper, will put teachers at the heart of school improvement and frees schools from central Government direction.
The Deputy Prime Minister Nick Clegg, who visited Durand Academy Primary School in Stockwell, south London with the Education Secretary today, stated that every child deserved a fair chance in life, whatever their background:
 
Mr Clegg said:
Our Pupil Premium will directly target additional money at the poorest pupils in our society, wherever they live.

Schools, heads and teachers will be allowed to decide how they teach and support their pupils, while good teachers in every school will be given the chance to innovate and improve.
The White Paper has been put together using information from many of the world's top education systems and sets out powers for teachers to improve discipline in the classroom, a vision for a transformed school curriculum, reform of school performance tables, a pupil premium to channel more money to the most deprived children and plans to develop a fairer and more transparent funding system. 
 
Education Secretary Michael Gove stressed that if the UK was to make the most of the potential of every child then it needed to learn from other countries: 
The best schools systems recruit the best people to teach, train them intensively in the craft of teaching, continue to develop them as professionals throughout their career, groom natural leaders for headship positions and give great heads the chance to make a dramatic difference.
Read more: Schools White Paper published
Published 13 December 2010