Education, retailing and technology the focus of UK-Egypt business talks
Egypt has more to offer than tourist sites for the 1.3 million British visitors who travel there every year.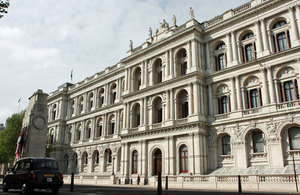 Egypt's Minister for Trade and Industry Rachid Mohamed Rachid is visiting the UK this week accompanied by a delegation of Egyptian companies to help increase two-way trade.
Minister Rachid today opened the Egyptian-Britain Business Council talks which highlighted business opportunities in education, technology and retail. The talks reinforced how important Egypt is as a market for British companies.
The UK is the largest single overseas investor in Egypt and bilateral trade was worth around £3 billion last year.
Speaking at the Egypt-British Business Council meeting today, Minister of State for the Foreign and Commonwealth Office Lord Howell said:
"Egypt is a dynamic market uniquely located as a gateway to Africa, Europe and the Middle East. Despite the downturn, Egypt achieved positive growth last year and is aiming for nearly 6 per cent growth this financial year, which begins next month.
With a 10 per cent rise in tourists visiting Egypt last year, I hope we can achieve equal success with our business partnerships. The Egyptian British Business Council is key to driving this forward."
Business, Innovation and Skills Minister of State, for Business and Enterprise, Mark Prisk said:
"There are more than 900 British companies in Egypt including BG, Shell, AstraZeneca and Rolls Royce. For instance, Vodafone is making a significant contribution to improving Egypt's telecommunications.
However, we could be doing more. There are significant opportunities for smaller, high-tech start-up companies, particularly in ICT and education. I want to ensure more British SME's are positioned to take advantage of opportunities in the Egyptian market."
Search the news archive
Published 29 June 2010