News story
Education in the youth estate
Education should be at the heart of the youth justice system, Justice Secretary Chris Grayling said in a keynote speech.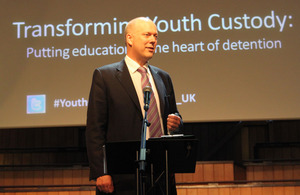 The event gave the Justice Secretary the opportunity to hear views from schools, academies, colleges, charities and others with an interest in education on the Government's plans to reform youth justice.
Chris Grayling said:
'I pay tribute to the hard work and dedication of those who work with young people in custody. But the results the system is getting now show that we need to do things differently.
'Reoffending levels for young people leaving custody are simply unacceptable. Nearly three in every four go on to reoffend within a year.
'Just as prison should prepare adults for life outside, so youth custody needs to equip young people with the skills they need to lead an honest, crime-free life.
'Education isn't just a part of this: it needs to be right at the heart of youth custody. My vision is for Secure Colleges that provide education in detention. Not detention with education tagged on as an afterthought.'
Transforming Youth Custody Through Education
The consultation and Green Paper look at the Free Schools and Academies programmes. These have secured improvements in education standards well above the national average and turned around some of the worst-performing secondary schools in the country. To improve outcomes for young people in custody we need to draw on this experience and bring new expertise and providers into the market. The consultation closes on the 30 April.
Published 18 April 2013