World news story
Ecuadorean Commercial Mission of Responsible Businesses in London
The British Embassy and the Ecuadorean-British Chamber of Industry and Commerce invite our members and friends to participate in a Commercial Mission of Responsible Businesses in London from 22nd -29th.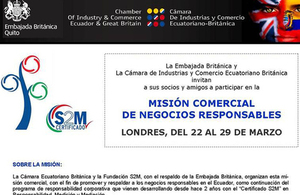 The Mission:
The Ecuadorean-British Chamber and the S2M Foundation, with the support of the British Embassy, are organising a commercial mission to promote and support responsible businesses in Ecuador as part of the continuation of the corporate responsibility programme that was developed with the 'S2M Certificate' in Responsibility, Measurement and Mediation two years ago.
Institutions to be visited:
During the mission we will visit and conduct meetings with directors of high-level institutions concerning corporate responsibility on a world scale. Key institutions will include Business in the Community, a non-profit organisation led by the Prince of Wales; CSR International, whose CEO is accredited Professor Wayne Visser; and SustainAbility, a corporation that assesses the main British corporate groups with regards to sustainability. Furthermore, we will organise business meetings to identify commercial opportunities between Ecuadorean and British businesses, with participation from both Ecuadorean and UK government institutions such as UK Trade and Investment, Proecuador, and the Chamber of Commerce in London.
Ecuadorean companies that will be part of the mission:
During the mission, the first 'S2M International Certification' will be given to ADELCA, an Ecuadorean company. Additionally, SERTECPET, TEVCOL, HEXAGON, AGRIPAC, ESPE, CERVECERÍA NACIONAL, L'OCCITANE and OCP ECUADOR will also participate in the responsible business programme.
Participation of new companies and registration:
To facilitate participation of more Ecuadorean companies, the British Chamber is offering a full package that includes flights, hotel, food and transport. Companies will also be accompanied by the British Chamber and Embassy, in order to get the greatest benefit from the visit. Registration will be open until 12pm on the 31st participation and registration, please contact Diego Gordón, Manager of the British Chamber: Phone: 2250883, 2465834 or 0995029119; Email dgordon@egbcc.org.
Please note:
A British visa is required to travel to the United Kingdom. If you do not have one, please apply by the 31st January to be able to assist to the Biometric Clinic.
Published 17 January 2014