World news story
Ecuador Earthquake: British engineers deployed to the crisis area
Ambassador Patrick Mullee visited the most affected town, Pedernales, accompanied by three British engineers and one risk and crisis advisor.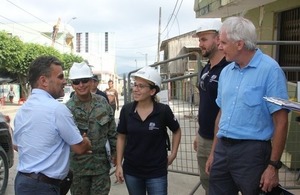 Ambassador Patrick Mullee visited Perdenales with US Ambassador, Todd Chapman, and Canadian Ambassador, Marianick Tremblay, all invited by Minister of Interior, José Serrano, to discuss international support to Ecuador after the 16 April earthquake.
Check out the photo gallery of the event in our Flickr account
The ambassador travelled with three British engineers and one risk specialist who evaluated the crisis area accompanied by the Body of Civil Engineers of the Armed Forces. Ambassador Mullee talked to media and stated that "here we have three structural engineers from big British companies, and we have also brought a coordinator for our cooperation with Ecuadorean authorities".
Engineer Anna Pavan said: "The idea is to collaborate with local authorities, (…) assess which buildings can be reused, which ones have to be demolished and which ones need to be reformed". During the evaluation, Minister José Serrano thanked the presence of the British Embassy Team, and further joint work sessions were scheduled.
As part of the visit, Ambassador Mullee met with the Mayor of Pedernales, Gabriel Alcívar, who dedicated kind words to thank the Ambassador and the team for the technical support to the reconstruction efforts of the town. Ambassador Mullee also visited one of the shelters, coordinated by United Nations and the Ministry of Interior.
Get the latest news in our Twitter account and follow the British Ambassador Patrick Mullee or check out our Facebook page.
Published 6 May 2016