World news story
Economic report: international endorsement of Peru's economic success
The 2008 Nobel Prize in Economics Paul Krugman, famous economist Nouriel Roubini, and The Economist compliment Peru's economic growth.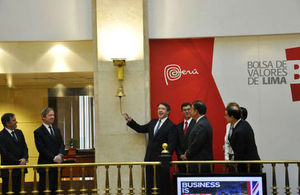 March was a month of international recognition for Peru's economic success and continuing potential. "Peru has the resources to be a successful country" were the words of Paul Krugman, 2008 Nobel Prize in Economics, in a conference that he gave in Lima last month. One of the most famous economists of the last decade, Roubini, also confirmed Krugman´s declaration in the IMF stating that "Peru is one of the most rapid growing economies in the region despite negative external factors during 2013".
Also, The Economist Intelligence Unit forecasted 6% in average growth over the next five years: "Peru is a very interesting country for investors, not only for its natural resources and commodities, but for its high growth dynamics" declared the regional director for Latin America and the Caribbean, Irene Mia. She also highlighted the expansion of the Peruvian middle class and its purchasing power, which offers many investment possibilities within Peruvian market including infrastructure, mining, and tourism. Furthermore, The Economist along with the British Peruvian Chamber of Commerce will host a major conference in Lima in May: "The Economist´s Peru Summit", due to the journal´s beliefs that Peru is positioned to play a key role on the global stage.
Peru´s GDP growth was between 5 and 5.5% in the first trimester, the second fastest growing economy in the region. The IMF endorsed this, placing Peru in the top of the Latin American countries economies. Moody's, the credit rating agency, stated that in Latin America only the economies of Peru and Bolivia maintain, a concrete basis from a macroeconomic point of view, and qualified their investment scenario as "Very Strong", taking into account economic, fiscal and external factors.
The Ministry of Foreign Affairs estimated that Peru's investment rating could be upgraded, from BBB+ to A. This is backed by several factors like GDP growth, investment increase, the diminishing of fiscal vulnerabilities, low inflation and the country´s macroeconomic policies. The global organisation EY endorsed this judgement.
Peru is in the third position of Latin America in the Global Enabling Trade Report 2014, submitted by the World Economic Forum in Switzerland. The country moved up one position regionally (3rd) and two positions globally (51st) in Enabling Trade Index. The report takes into account political institutions and services that facilitate the investment and trade flow between frontiers. Peru also stands out in the "Access to market" index (4th position), also from the World Economic Forum 2014 Report.
Investment in the public sector will grow 18% this year and will be a main driver of economic growth. Major projects include the Andean South Pipeline (£2,700 million), the Chincheros Airport in Cusco (£417 million) and Lima Metro Line 2 (£3,900 million). The Energy and Mining Minister announced that investment projects in the sector this year would total £36,000 million.
Published 15 April 2014