News story
Ecological Fair at St Petersburg to gather fresh ideas for water use
Water is an inseparable part of the history of St Petersburg. The city has 40 waterways of various sorts, linked by an astonishing 500 bridges, including 19 iconic opening bridges over Neva river.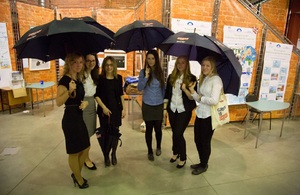 From spectacular fountains in Peter the Great's favourite Summer Garden and Peterhof palace, to lake Ladoga which saved thousands of lives during the WWII blockade of Leningrad, water has always been at the heart of the city's existence.
So when 400 participants from educational institutions of St Petersburg got together on 12 March at Youth Education Centre of Vodokanal (the city water utility) to share their passion for protecting the city's water resources, the energy was overflowing!
Over the last six months, project teams at over 30 schools took part in a series of English-language training events on environmental issues and water conservation. Working on their independent projects, they had to dig deep into possible solutions: collecting and using rain water, re-using grey water, using various filtration devices, even including banana skins! Some ambitious teams even volunteered to create a smart city with water and environment as the key focus. It was a tough decision for the expert jury. All participants received recognition, but projects that demonstrated the most sustainable and practical approach to the issue earned special awards from the British Consulate in St Petersburg and Embassy in Moscow as well as from a British construction and consultancy company Mott McDonald.
The Ecological Fair was hosted by Vodokanal as part of "Fresh ideas for water use" project organised by the British Consulate General in St Petersburg in partnership with city's main water utility Vodokanal and the English-Speaking Union. Guests of the event also enjoyed an innovative photo exhibition in support of low carbon living "Carbon Journey" created by Matthew Webb.
Matthew Webb, Greening Officer at British Embassy Moscow chaired the expert jury of the Eco Fair. Earlier in December Matthew delivered a greening train-the-trainer workshop to 40 trainers who then delivered low carbon training sessions in schools. Each school then made a team of 5 to 10 people who developed, tested (often with scientific research) and submitted concepts to the Fair in a format of a 2 minute live presentation to the expert jury. The jury included experts from Vodokanal State Enterprise, local NGOs "Friends of the Baltic" and "Centre for Transboundary Cooperation," State Hydrometerological University and the British Consulate in St Petersburg.
Published 28 March 2013