News story
ECGD helps wallpaper company roll out its products in Russia
The Export Credits Guarantee Department (ECGD) has supported the UK's largest wallpaper manufacturer to help increase its exports to Russia.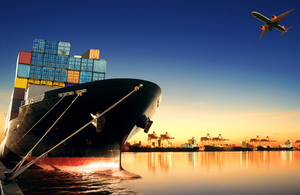 The Export Credits Guarantee Department (ECGD), the UK export credit agency, has supported the UK's largest wallpaper manufacturer to help increase its exports to Russia. Russia is the world's largest consumer market for wallpaper, 3 times larger than the UK market.
ECGD has issued 2 export insurance policies to Blackburn-based Graham & Brown. These were tailored to Graham & Brown's pattern of business and will enable the company to increase its overseas sales to Russia significantly. These are the first policies issued since ECGD expanded the type of business that it covers under its credit insurance policy in line with the announcement in the government white paper Trade and Investment for Growth.
Graham & Brown, which employs more than 500 people in the UK and exports 35% of its output, brought its business to ECGD through Manchester-based insurance brokers, Atlas Risk Management.
Andrew Graham, chief executive of Graham & Brown, said:
Russia is the biggest market for wallpaper in the world, but our growth was being limited by insufficient availability of export credit insurance from private markets. Our biggest competitors from Germany have been able to access credit insurance from a government-backed scheme, making it less risky and therefore easier for them to develop business in this most important market. ECGD has worked closely with our brokers, Atlas, to help provide comparable cover. We will continue to work with ECGD and Atlas to obtain further insurance for Russia, Eastern Europe and the Middle East, so we can develop our export business further.
Atlas Risk CEO Barry Skinner said:
This was a good example of strong team-work between ECGD, an exporter and its broker to support a great British exporter. Now that ECGD is able to offer cover to companies like Graham & Brown, I hope that many more British companies will see the value of credit insurance in giving them confidence to export and to take on new markets.
ECGD chief executive Patrick Crawford said:
I'm very pleased that ECGD's support is helping Graham & Brown to build their export business. This shows that ECGD's newly launched expanded insurance cover can be adapted to meet an exporter's specific needs. I hope it is the first of many exporters in a wide range of sectors that ECGD will help.
Published 18 August 2011