News story
Ebola vaccine fast-track trials underway
With the help of UK aid, 60 volunteers are being tested with a potentially life-saving vaccine.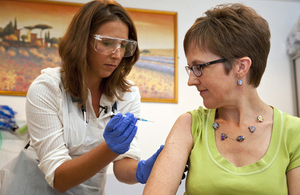 A healthy Briton has become the first volunteer to receive a potentially life-saving new vaccine to tackle the Ebola virus spreading through West Africa.
Ruth Atkins, a communications manager in the NHS from Marcham in Oxfordshire, was injected with the experimental drug on 17 September 2014 as part of a safety trial carried out by experts at the University of Oxford.
She is one of 60 volunteers who are taking part in the UK trial over the coming weeks which has been fast-tracked because of the worsening outbreak.
The trial is being led by Professor Adrian Hill of the Jenner Institute at the university, thanks to funding from the Wellcome Trust, the Medical Research Council and the Department for International Development.
International Development Secretary Justine Greening said
We are co-funding these important clinical trials to find a safe vaccine for Ebola as well as providing critical care on the ground. Britain is a world leader in medical research and mobilising our unique strengths to find a vaccine could be pivotal to containing Ebola and preventing future outbreaks.

The UK has been on the front foot from the outset to help West Africa combat the world's worst Ebola outbreak. We have provided £25.5 million to agencies providing critical care, deployed scientists to better understand the disease, and we are building a treatment centre in Sierra Leone.
The trials are conducted on healthy people to see whether they suffer any side effects and if the jab generates a good immune response. The vaccine does not contain infectious Ebola virus material and will not cause a person taking part in the trial to be infected.
Ten thousand doses of the drug are already being manufactured by British drug company GlaxoSmithKline (GSK) alongside the clinical trial in the hope that it will be approved for use in the coming months.
The vaccine, co-developed by the US National Institutes of Health and GSK, targets the "Zaire species" of Ebola which is one of the strains circulating in West Africa. It uses a single benign Ebola virus protein to generate an immune response.
The testing is part of a series of safety trials of potential vaccines to combat the virus, which could offer hope to the thousands facing the illness that has killed about 53% of those infected.
Published 19 September 2014