News story
Ebola Medal Reception – honouring individual contributions
The Stabilisation Unit has presented medals to some of the individuals involved in its response to the Ebola virus outbreak.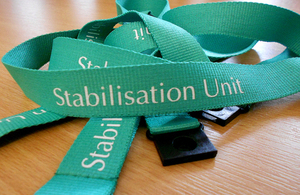 This month marked a year since the end of Sierra Leone's Ebola epidemic. To mark the occasion Stabilisation Unit (SU) held an event to recognise the efforts of those individuals that SU deployed in support of the cross-government response.
The event drew on the experience of those who had deployed to explore the lessons learned from HMG's response to the outbreak of Ebola and the implications for future peace and stability in Sierra Leone.
DFID Minister of State, Rory Stewart, thanked those who deployed and presented some of the deployees with the Ebola Medal for Services in West Africa. Before awarding the medals he concluded, "I have so much admiration for the people who deployed to fight the Ebola epidemic. It took immense courage and compassion to go into the centre of this crisis. These rare medals should be worn with justifiable pride – and will long be honoured by our country."
Stabilisation Unit Response
Stabilisation Unit deployed 29 individuals into the cross-government response and its members of the International Security Assistance Force also supported the effort to respond to the Ebola outbreak. Many of the deployees performed multiple deployments, often at short notice, and played a key role in supporting the Government of Sierra Leone and co-ordinating efforts at the district level.
The UK's response to the Ebola outbreak was truly cross-governmental taking over 3,000 staff from the military, civil service and DFID-funded and partner organisations. The construction of six treatment centres, supported by over 150 NHS volunteers, provided over 2,500 isolation/treatment beds. An independent report by the London School of Hygiene and Tropical Medicine calculated that the response helped prevent 57,000 new cases of the disease.
For more information please see the UK lessons from Ebola outbreak publication and the London School of Hygiene and Tropical Medicine Report.
Published 25 November 2016