News story
East of England Development Agency Non-Executive Directors to continue Board service
Stuart Evans, Cllr Paul Burall, Sheila Childerhouse, and Karen Livingstone will serve from 14 December 2010 until the RDA closes. The Minister…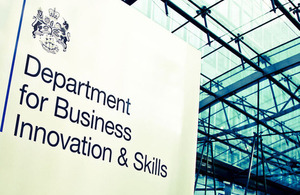 Stuart Evans, Cllr Paul Burall, Sheila Childerhouse, and Karen Livingstone will serve from 14 December 2010 until the RDA closes. The Minister also announced a year extension for Cllr Marco Cereste, who will accumulate 10 years service on the Board.
The Minister commented:
" As we move toward a new framework for our regional economies, it is important that the development agencies are equipped with the leadership to ensure the transition period is a smooth one.
"The skills and experience of these board members will be a valuable asset during this time and I hope they will continue to work with us to ensure an efficient evolutionary process."
Will Pope, Chair of EEDA, said:
"I welcome Stuart Evans' reappointment to the EEDA board and also the extension of the appointments of four other board members. Karen Livingstone, Paul Burall, Sheila Childerhouse and Marco Cereste, as well as Stuart, have provided invaluable contributions over the last few years to our mission of improving the economy of the East of England.
"The key role of the board in this period of change is to ensure that we deliver on business support today and also a smooth and professional transition to the new arrangements for economic development, working with local authorities and businesses to plan for the future.
"Over the coming months we will continue to retain a sharp focus on supporting local businesses helping them to access the right funding, people and customers."
Notes to Editors
Regional Development Agency non-executive Board member posts
attract a remuneration of £8,666 per year for a minimum time commitment of two days per month.
The continued terms for Stuart Evans, Paul Burall, Sheila Childerhouse, and Karen Livingstone are up until the RDA closes. Marco Cereste has been offered a year extension up until December 2011 (the Commissioner for Public Appointments granted the years extension on the basis that he will have served 10 years on the Board which is the maximum term in office.

RDAs are business-led organisations, promoting and co-ordinating
economic growth and development, enterprise and regeneration.
The Coalition Government announced the creation of local enterprise partnerships to replace RDAs. On that basis the decision was made not to continue with further Board member recruitment. The continued terms of Board members are necessary to ensure that the RDA Chairs are able effectively to manage their Board membership up until closure, and that membership does not fall below the minimum requirement of eight, as stated in the Regional Development Agencies Act 1998.

The original appointments were made following open competition in accordance with the requirement set down in the Commissioner for Public Appointments Code of Practice. All appointments are made on merit and political activity plays no part in the selection process. However, in accordance with the original Nolan recommendations, there is a requirement for appointees' political activity (if any declared) to be made public.

Stuart Evans has not declared any political activity being undertaken in the past 5 years. Karen Livingstone is an active member of the Labour party; Marco Cereste is aConservative Councillor and Leader of Peterborough City Council; Paul Burall is a Councillor for the Liberal Democrat party, and Sheila Childerhouse's political activity has been undertaken on behalf of the Independent party.

Sheila Childerhouse holds a further ministerial appointment as Chair NHS Norfolk which attracts a remuneration of £39k per annum for a time commitment of 3 days a week. Paul Burall, Karen Livingstone, Stuart Evans and Marco Cereste do not hold any further ministerial public appointments.
---
Biographies:
---
**Stuart Evans **has been an entrepreneurial business leader in Cambridge since 1983, having been founding CEO at Plastic Logic and Cotag International. In addition to EEDA, he is a non-executive director of Pursuit Dynamics; Chairman of Novacem, a CleanTech spin-out from Imperial College, London; and chair of trustees at the Arthur Rank Hospice Charity in Cambridge. His professional life has always been international, with a Harvard MBA and early career with IBM and McKinsey & Co. He has a Cambridge BA/MA; is a Chartered Director of the Institute of Directors; and has been a Technology Pioneer at the World Economic Forum in Davos.
---
Paul Burall is a Lib Dem member of King's Lynn and West Norfolk Borough Council; chairs the Party's regional policy committee; and regularly chairs, or is a member of, national Party policy groups. Paul is a freelance journalist, author, and lecturer specialising in environmental, design and industrial and management issues. He is a policy council member and former vice chair of the Town and Country Planning Association. Paul is a member of EEDA's Resources & Performance Committee and chair of the Inspire East advisory board.
---
Sheila Childerhouse **has wide experience within the voluntary and community sector, particularly in urban and rural regeneration, where she has chaired a number of leading trusts. She has over 20 years' experience as a leader in the NHS and is currently chair of NHS Norfolk. Sheila was a high school teacher and a local councillor in rural Norfolk for over 20 years. She has been a board member of EEDA for 6 years, chairing the strategy committee and leading on social inclusion, she is currently carrying out additional responsibilities on the Board with a time commitment of 4 days a month. She is also a partner in an East Anglian family farming business.**
---
Karen Livingstone is director of strategic partnerships for NHS East of
England, directing the work of the NHS to improve health in the workplace, integrate business innovation and build closer relations with key partners in local government, business, the 3rd sector and other public sector bodies. Formerly, she was special advisor to the Secretary of State for Health, Patricia Hewitt and director of communications and marketing at the Chartered Society of Physiotherapy, director of campaigns at the Transport and General Workers' Union and has over 20 years' experience of communications management for trade unions and public sector bodies. Karen is chair of EEDA's Audit Committee and is the board champion for women's enterprise and equality issues.
---
**Marco Cereste **is the Chair of a group of private family businesses. The Italian government has awarded him three major honours the most recent being one of Italy's highest honours La Stella Doro Della Soledarieta Italiana, First Class. He has recently retired from the NHS after 24 years of service, 17 of those as a Trust Chairman. He is founder chair of the NHS Confederation. Marco is Leader of Peterborough City Council, Chair of PeterboroughRenewable Energy Limited and holds a number of non-executive directorships. Marco has held office as chair, treasurer and secretary of the local branch of he Conservative Party and has canvassed on behalf of the party. Marco is Deputy Chair of EEDA and Chair of EEDA's Resources Committee.
Notes to Editors
Contact Information
Name BIS Press Office Job Title
Division COI Phone
Fax
Mobile
Email NDS.BIS@coi.gsi.gov.uk
Published 26 July 2010