News story
East Midlands Development Agency Non-Executive Directors continue to serve on the Board
Michael Seals MBE, Ann Cartwright, Steve Brown, Cllr Gary Hunt, Cllr Jon Collins, Cllr Geoff Stevens and Prof Philip Tasker will serve from …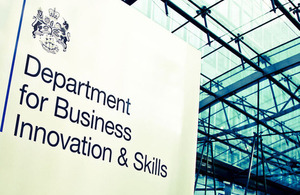 Michael Seals MBE, Ann Cartwright, Steve Brown, Cllr Gary Hunt, Cllr Jon Collins, Cllr Geoff Stevens and Prof Philip Tasker will serve from 14 December 2010 until the RDA closes.
The Minister commented:
---
"As we move toward a new framework for our regional economies, it is important that the development agencies are equipped with the leadership to ensure the transition period is a smooth one.
"The skills and experience of these board members will be a valuable asset during this time and I hope they will continue to work with us to ensure an efficient evolutionary process."
Dr Bryan Jackson, Chairman of EMDA, said:
"During this period of significant change, it is crucial that we retain the expertise of our Board members to ensure any new arrangements support the economic welfare of the region and include the voice of business.
"As a business-led organisation, we understand business needs and priorities and will continue to highlight these so the region and companies based here can innovate, grow and prosper."
Notes to Editors
Regional Development Agency non-executive Board member posts attract a remuneration of £8,666 per year for a minimum time commitment of two days per month.

The continued terms are up until the RDA closes, and no later than 13 December 2012. Final closure of RDAs is likely to be completed by 31 March 2012 following legislation.

RDAs are business led organisations, promoting and co-ordinating economic growth and development, enterprise and regeneration. The Coalition Government has made the decision to support the creation of local enterprise partnerships to replace RDAs. On that basis the decision was made not to continue with further Board member recruitment. The continued terms are necessary to ensure that the RDA Chairs are able effectively to manage their Board membership up until closure, and that membership does not fall below the minimum requirement of eight, as stated in the Regional Development Agencies Act 1998.

The original appointments were made following open competition in accordance with the requirement set down in the Commissioner for Public Appointments Code of Practice. All appointments are made on merit and political activity plays no part in the selection process. However, in accordance with the original Nolan recommendations, there is a requirement for appointees' political activity (if any declared) to be made public.

Michael Seals, Ann Cartwright, Steve Brown, and Prof Philip Tasker have not declared any political activity undertaken during the past five years. Gary Hunt is a Councillor and Party officer for the Liberal Democrat party. Jon Collins is a Councillor for the Labour party. Geoff Stevens is a District and Town Councillor for the Conservative party.

Michael Seals, Ann Cartwright, Steve Brown, Philip Tasker, Gary Hunt, Jon Collins and Geoff Stevens do not hold any further ministerial public appointments.
---
---
Biographies:
**Michael Seals MBE **an experienced land owner, farmer and executive / non executive director, with extensive experience of agriculture, government delivery bodies, committees and working parties. He is Chairman of the National Fallen Stock Company, NRoSo and a Board Member of EMDA since December 07 as well as a Trustee of the British Horse Society.
** Ann Cartwright **has over 30 year experience in HR as a Leader, Manager and Consultant and has worked across all sectors. Prior to establishing her own Leadership Consultancy, Brooke McNee Ltd in 2007, she was CEO Family First Ltd, a Nottingham based charity and Housing Association. Ann is co-author of a number of Gower publications including 'Activities for Coaching and Mentoring' and 'The Mentoring Manual' and 'Emotional Intelligence - Activities to develop you and your business'. Ann is currently Chair of Nottingham Community and Voluntary Services.
**Steve Brown **has been Chairman or a Non-Executive Director of a number of leisure companies and Director of a Construction and Manufacturing plc based in Mansfield. He is Chairman of Partners for England (representing this body on the Visit England Board). Chairman of the National Trust in the Midlands and a Governor of Stamford Endowed Schools. He was previously a Non-Executive Director of the National Space Centre; the University of Derby Council; the Regional Inward Investment Agency; Chairman of the East Midlands CBI, and the East Midlands Economic Development Forum. Previous Executive Director roles include being a founder Director of Center Parcs plc, a Director of Thomas Cook and Managing Director of the Champneys Group.
---
**Gary Hunt **a Leicester City Councillor for 23 years and formally a Cabinet Link Member with responsibility for the Planning, Regeneration, Highways and Environment function of the Authority and is currently vice chair of the Regeneration and Transport Task Group and sits on the Audit Committee, The Conservation area panel and both the Licensing and Licensing enforcement committees. Gary acts as a Consultant in many areas including Regeneration, Funding, Inward Investment and Environmental Developments. He also sits on the Committee of the East Midlands Reserve Forces and Cadets Association and is a Board Member of OPUN. The regional Architecture centre and on various charitable and educational bodies including the Buckingham VC Memorial Fund, The North Memorial Homes Alms Houses Board & The Wyggeston School Foundation.
---
Jon Collins is** currently Leader of Nottingham City Council. Jon Collins has been a Councillor of St Anns, an inner city ward, in Nottingham since 1987. During this time he has served as Chair, Community Development Committee, seven years as Deputy Leader and Portfolio Holder for Education and Work (1999-2003). Jon chairs One Nottingham - the City's Local Strategic Partnership, is interim Chair of the Crime and Drugs Partnership, chairs the Renewal Community Development Trust, and is a Board Member for the East Midlands Development Agency. He was recently elected as Chair of Nottinghamshire Police Authority with oversight of the Change Management Board. He has previously been a Board Member on the City's Primary Care Trust, the Learning and Skills Council and the Greater Nottingham Partnership. Prior to undertaking his current role as Leader (since 2003), Jon completed an MBA (Public Services) and worked as an Urban Regeneration Consultant and Housing Development Officer. **
Geoff Stevens is vice-chairman of the Rural Affairs Forum for the East Midlands. Currently a Director of Eldridges Matlock Ltd, Men's and Ladies wear business; he is also Chairman and Deputy Leader of Derbyshire Dales District Council and their representative on the newly formed East Midlands Councils. He is a member of Matlock Town Council, Chairman of the Dove & Derwent District Scout Council and a Member of the Board of the Mid Derbyshire Citizens Advice Bureau.
Prof Phlip Tasker was Vice-Chancellor, De Montfort University from 1999 to August 2010. He led the transformation of the university consolidating on the Leicester site, reducing campuses from 10 to one and focussing on core strengths of professional and creative education. He has recently been appointed the Chair of the Leicester Theatre Trust which runs the new Curve theatre in Leicester. In 1974, he undertook research at the University of Bristol in Theoretical Chemistry, moved to the Atomic Energy Research Establishment, Harwell in 1975 as a Research Scientist in the Theoretical Physics Division. From 1990, he held posts of Divisional Manager, Research Director and Commercial Director in a core business of AEA Technology. In 1993, he set up Safeguard International, a new joint venture company, and became its first Chief Executive. He joined De Montfort University in 1996 firstly as Pro-Vice Chancellor then Vice Chancellor in 1999.
Notes to Editors
Contact Information
Name BIS Press Office Job Title
Division COI Phone
Fax
Mobile
Email NDS.BIS@coi.gsi.gov.uk
Published 26 July 2010