Severe flood risk on East Coast passes
High tides, strong winds and large waves brought the risk of flooding to the East Coast of England overnight.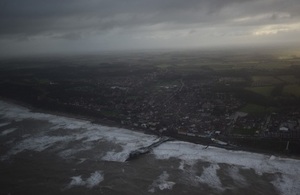 Doug Wilson, Flood Duty Manager at the Environment Agency said:
High tides and strong winds caused large waves along the East Coast yesterday, bringing a risk of significant flooding and danger to life.

The Environment Agency issued over 100 flood warnings, operated its permanent flood defences including the Thames Barrier and Hull Barrier, and set up temporary defences in areas at risk. These actions protected over 550,000 properties.

In the event, the combination of the peak surge, strongest winds and largest waves didn't coincide in all areas and did not reach the most dangerous levels that were possible all along the East Coast. Some properties in North and East Yorkshire were flooded and our thoughts are with those affected.

Environment Agency teams are out on the ground today inspecting and repairing any damaged defences, and will continue to warn and inform the public of flood risks, as necessary. We wish to thank the emergency services, local authorities, the military and volunteers who worked with Environment Agency staff to prepare for this event.
The flood warnings page on GOV.UK is updated every 15 minutes: https://flood-warning-information.service.gov.uk/
Published 14 January 2017
Last updated 14 January 2017
+ show all updates
Link to flood warnings page added.

Severe flood risk has passed, but flood warnings remain

First published.