News story
Easier procurement practice to save construction industry £250 million a year
Currently businesses may have to answer a different set of questions every time they bid for new government contracts. From today, a standard…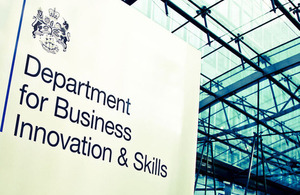 Currently businesses may have to answer a different set of questions every time they bid for new government contracts. From today, a standard prequalification questionnaire is available as a free download, streamlining this process, saving both time and money for construction firms.
Estimates by the National Specialist Contractors Council put the cost to the industry and its clients of wasteful prequalification processes at £250 million annually.
The Publicly Available Specification (PAS 91) has been developed by the British Standards Institution in partnership with the Department for Business.
Business Minister Mark Prisk said:
"Ensuring that public sector procurement practices are not wasteful has always been important but the current economic climate brings that into even sharper focus.
"Over the next decade the new PAS 91 could save the construction industry billions of pounds.
"This is a good example of how Government can work with key suppliers to develop an approach which meets the needs of both the public sector clients and the private sector suppliers."
Bill Wright, Managing Director of W. Wright Electrical Ltd said:
"As a contractor who regularly fills out these questionnaires, I fully support the publication of PAS 91 and I am pleased to see that it is gaining wide support across the industry. What matters now is that clients and major contractors adopt, or even when they need more information, build upon this important document. This will help to minimise costly and unnecessary paperwork and place the focus where it should be - on assessing contractor's capabilities".
PAS 91 has been developed with direct involvement of the Electrical Contractors Association, the Specialist Engineering Contractors Group, the National Federation of Builders, the Federation of Master Builders and the Civil Engineering Contractors Association who were all on the Steering Group.
Notes to Editors
BIS has worked closely with BSI, the Cabinet Office ERG, the industry and a number of scheme operators to develop a publicly available specification (PAS 91). This specification sets out the nature, content and format of a set questions relating to the core criteria essential to construction tendering - General Supplier information, financial information, business and professional standing and Health and Safety. In addition, it sets out a standard set of questions for topics that buyers are frequently interested in - equal opportunities, environmental management and quality management. The content of the questionnaire will be reviewed after a year.

The Publically Available Specification (PAS 91) is now available as a free download on the BIS and BSI websites here:
http://www.bis.gov.uk/policies/business-sectors/construction/specification
BIS' online newsroom contains the latest press notices, speeches, as well as video and images for download. It also features an up to date list of BIS press office contacts. See http://www.bis.gov.uk/newsroom for more information.
Notes to Editors
Contact Information
Name BIS Press Office Job Title
Division COI Phone
Fax
Mobile
Email NDS.BIS@coi.gsi.gov.uk
Name Lucy-Michael Sutton Job Title
Division Department for Business, Innovation and Skills Phone 020 7215 5977 Fax
Mobile
Published 18 October 2010