Earth Hour: A small gesture can make a big difference
Deputy Prime Minister Nick Clegg is urging everyone to join in Earth Hour to make it the best, most impressive yet.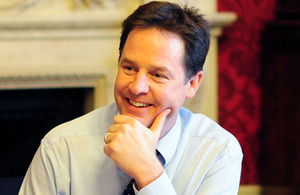 On the Saturday 26 March people around the world will be switching off their lights for one hour. Iconic global landmarks, from the Royal Albert Hall to the Sydney Opera House, will be doing the same, along with hundreds of millions of individuals.
Nick Clegg has described this event as a "show of solidarity unlike any other". He said:
People of different races, religions, nationalities [will be] coming together to do something small in order to send a big message: 'We have one planet, we're all responsible for it and we're determined to protect it'.

At eight thirty get involved. Turn off your lights. It's a small gesture, but it can make a big difference.
With saving energy and cutting carbon emissions at the heart of the Government's drive to make Britain greener, the Government will also be participating in Earth Hour.
The Government is committed to fighting climate change and, in the last 10 months, has invested hundreds of millions in carbon capture and storage pilots and off shore wind; introduced a new green deal to help insulate millions of homes in Britain; begun work on a Green Investment Bank; and played a key role in getting the World back on track towards a binding deal on cutting carbon emissions.
Earth Hour will take place between 20:30 and 21:30 on Saturday 26 March 2011. To find out more about how to participate visit the Earth Hour website.
Published 26 March 2011